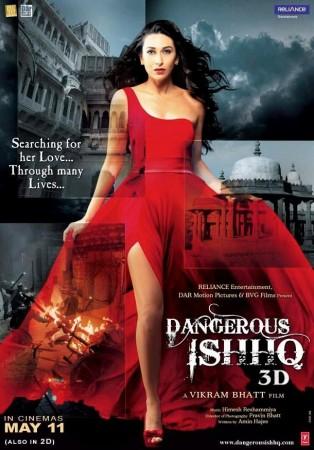 The first theatrical trailer of director Vikram Bhatt's forthcoming 3D flick "Dangerous Ishq" is out.
Actress Karisma Kapoor is the central protagonist of the film, which she says is a "bold film."
"Dangerous Ishq is a bold film in its own way because we are dealing with a topic which doesn't fall under a typical Hindi movie genre. Nowadays, a lot of people are intrigued by the idea of past life regression, tarot card reading etc and it is a bold movie," Karisma told a reporter after unveiling the first look of the film Wednesday night.
She plays a supermodel, Sanjana, in the film. Karisma, who is making her comeback to the silver-screen after a long break, will have six different roles, says the director of the film.
In the poster of the film, Karisma is seen in a red gown with her right foot forward.
However, the buzz is that Karisma's pose is inspired by Hollywood actress Angelina Jolie's look at this year's Academy Award function.
At the Oscar 2012, Angelina posed in a black Versace gown, with a thigh-high split. Angelina's pose became the talk of the town among celebrities and fashionistas.
Reacting to comments doing the rounds in the film industry, Karisma retorted that she had not imitated Angelina's pose and her picture in that pose was shot before the Oscars, so it was not at all inspired from there.
Here is the first look of "Dangerous Ishq"