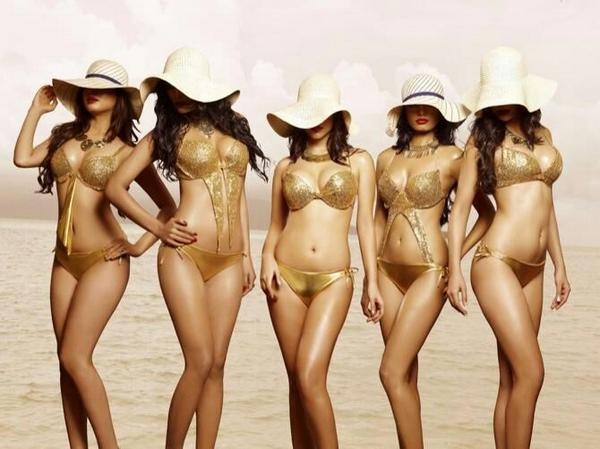 Madhur Bhandarkar's tryst with the illusive glamour world continues as he unveils the first-look of his upcoming release "Calendar Girls".
Sizzling in gold swimsuits, the girls flaunt their picture perfect curves. Interestingly, the faces are hid with over-sized sun hats. Is it an effort to trigger curiosity? Only time will tell.
However, according to an India Today report, "Madhur plans to keep the girls hidden until the completion of the film. Not only has Madhur restricted visitors at the shoot, but has also forbidden his team from carrying mobile phones or cameras. The cast and crew have been bound by Non-Disclosure Agreement too."
Starring five debutants, Bhandarkar's "Calendar Girls" revolves around the life of fashion models. Despite tight security, the film's producer Sangeeta Ahir has managed to let out details from the film. "Madhur has cast five newcomers. For now, our priority is to complete the shoot. Only when we're closer to the release, we'll reveal the girls who are being launched," Ahir told Bollywood Life and added that the fresh faces have impeccable acting skills and have delivered good performances.
Reports suggest that the current leg of the schedule is being shot in Mumbai and after completion, the team will head abroad to finish off the remaining shots.
Slated for release on 1 May 2015, the makers have indeed adopted a clever marketing strategy. But, it's somewhat similar to Aamir Khan's "P.K." poster campaign.
Khan reportedly said that he would release 10-12 posters prior to the trailer launch to confuse viewers as each will carry a different story. Known for being unique in his methods, Khan has indeed triggered another trend in the film marketing world.
Bhandarkar tweeted along with the photo, "FIVE new FACES. FIVE new JOURNEYS. CALENDAR GIRLS and their Date with Destiny: 01.05.2015."