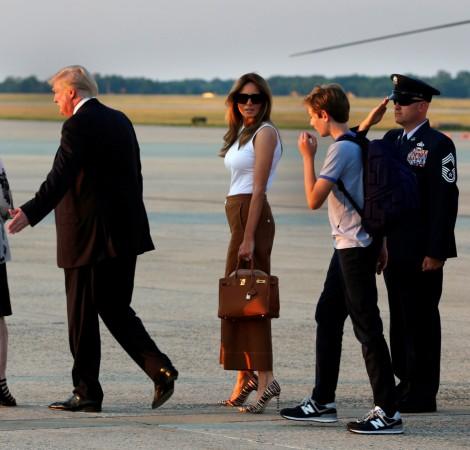 Four and a half months after President Donald Trump was sworn into office, his wife Melania, and youngest son, Barron, have finally moved into the White House. The trio, who were accompanied by Melania's parents Viktor and Amalija Knav, arrived on Marine One, which landed on the south lawn of the White House at around 8 pm on Sunday (June 11).
Read: Melania Trump takes selfies with children at Vatican hospital
Melania Trump had been living in Trump Tower in New York to make it easy for Donald Trump's 11-year-old son who was in the fifth grade at a New York school. Melania had been preparing to move into the White House for quite some time now. She was looking for suitable schools for Barron.
Barron, who will attend the St. Andrew's Episcopal as a sixth-grader, will be the first boy to live in the White House since 1963 when John F. Kennedy Jr. was 3 years old.
Melania, who is the first foreign-born first lady in two centuries, seemed pretty excited to move into the White House.
Here are a few pictures of the Trump family arriving at their new home: