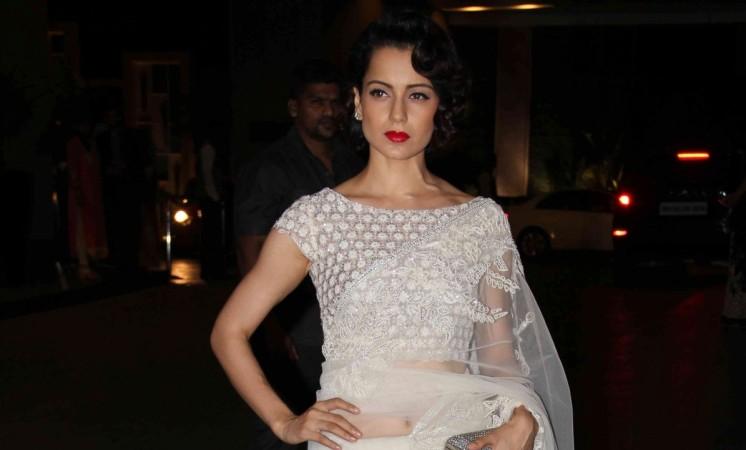 Kangana Ranaut's Manali mansion became the talk of the town ever since the actress announced that she was building a house in her hometown. While a few pictures of the outside view of the Rs 30 crore swanky mansion hit the internet earlier, the Queen actress has finally treated everyone with an inside tour to her queen-sized castle which will definitely make your jaw drop with its grandeur.
Her dream house has been featured in Architectural Digest India's May - June 2018 issue giving her fans a sneak peek into the luxurious mansion. The house is located at 2,000 metres above sea level against the backdrop of snow-clad Himalayas.
The interiors have been given a regal touch including all the furniture. It took almost nine months to install the interior. The traditional kath-khuni architecture style of house in the hilly state of Himachal Pradesh made from local indigenous materials like wood, stone and bricks, with a breathtaking view of snow-clad mountains makes it a perfect dream destination.
While talking about her interior designer Shabnam Gupta, Kangana told AD, "I gave Shabnam carte blanche, except for the timber ceiling in the living room, which I took a picture of in New York, and sent to her. I trusted her with everything. Later in life, I imagine I'll have a clearer idea of my taste in interiors, but for now, I just wanted it finished while I was filming."
Shabnam handed over the house to Kangana in November 2017.
"Laying the first brick of my house was an important decision. I have my own place in Mumbai, and I could have got a house anywhere in the world. But people back home call me Himachal ki beti. I am overwhelmed with the love I receive from my people," Kangana told Mid-Day in 2016.
And after a one-and-a-half year wait, her dream mansion is finally ready to be occupied.
Take a look at Kangana's captivating Himalayan hideaway here:
Video | Kangana takes you through her queen-sized mountain retreat in the May issue of Architectural Digest India pic.twitter.com/lW1jrjsMl9

— Kangana Ranaut Daily (@KanganaDaily) May 2, 2018
Scans | Kangana us a tour of her queen-sized mountain retreat in Manali in the May issue or Architectural Digest India pic.twitter.com/q0foaYq3VR

— Kangana Ranaut Daily (@KanganaDaily) May 2, 2018
Scans | Kangana us a tour of her queen-sized mountain retreat in Manali in the May issue or Architectural Digest India pic.twitter.com/9DhpoWWoUH

— Kangana Ranaut Daily (@KanganaDaily) May 2, 2018
Scans | Kangana us a tour of her queen-sized mountain retreat in Manali in the May issue or Architectural Digest India pic.twitter.com/dfpuEjMSDY

— Kangana Ranaut Daily (@KanganaDaily) May 2, 2018
Scans | Kangana us a tour of her queen-sized mountain retreat in Manali in the May issue or Architectural Digest India pic.twitter.com/Ya5QAJAvU6

— Kangana Ranaut Daily (@KanganaDaily) May 2, 2018