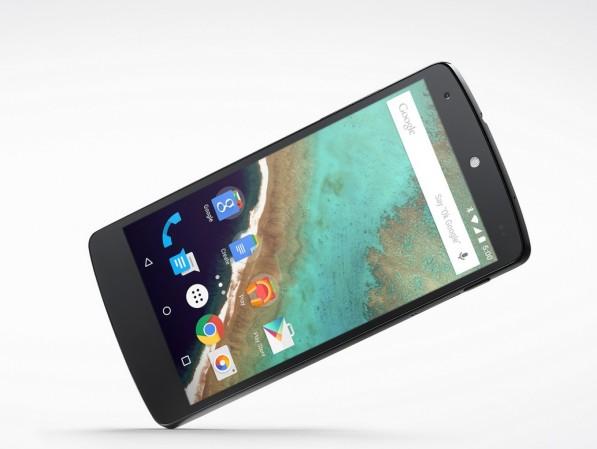 A snapshot of the soon-to-be-released Google Nexus 5 (2015) has leaked online, revealing key details of the phone's camera and security feature.
Technology blog Android Pit has got hold of a photo claimed to be Google's Nexus 5 (2015) from a reliable source. Unlike the previously leaked photos twirling on the internet, this image is in high resolution and the phone's white hued rear side shows clearly for the first time that the new LG phone will indeed be boasting laser auto focus, dual LED flash like we see in the company's flagship G series (G3 & G4).
For the uninitiated, the laser-based, auto focus feature measures the distance between the subject and the camera using a laser beam, enabling users to capture good quality photos under low light conditions quickly.
In the image, we also see that LG has retained circular camera module design seen in the 2013 Nexus 5 version, but the only difference is the company has moved the module from the top left corner to the centre and has placed finger-print sensor with metallic ring below the camera. LG has engraved the brand Nexusvertically, but the company's LG logo, which is present in all previous generation Nexus series, is missing in this photo. [View Nexus 5 (2015) image, HERE]
LG Nexus 5 (2015) aka Bullhead:
Going by the recent reports, LG's Nexus 5 (2015) is expected to be a sub-flagship vanilla Android phone. It is said to sport 5.2-inch full HD (1920x1080p) display, Qualcomm Snapdragon 808 processor backed by 3GB RAM, 16GB/32GB inbuilt storage, Type-C USB port and a 2700 mAh battery. It is also expected to house 12.3MP main camera on the rear-side and 5MP snapper on the front.
Huawei Nexus 6 (2015) aka Angler:
Unlike LG Nexus 5 (2015), Hauwei made Nexus phone will be bigger and boast top-of-the-line hardware. It is said to boast QHD (2560x1440p) display, Snapdragon 810 processor, 3GB RAM, 21MP camera with Sony IMX230 sensor, USB Type C port and Android Marshmallow OS out-of-the-box.
Also Read: LG Nexus 5 (2015) Price, Release Details Leaked; Smartphone to Hit Google Play Store This Month
As of now, there is no word on how much Huawei Nexus phone would cost, but due to the generous use of metal in the phone, it will certainly cost way more than LG Nexus phone. Both the devices are expected to release on Google Play Store on 29 September.
Stay tuned for more updates.