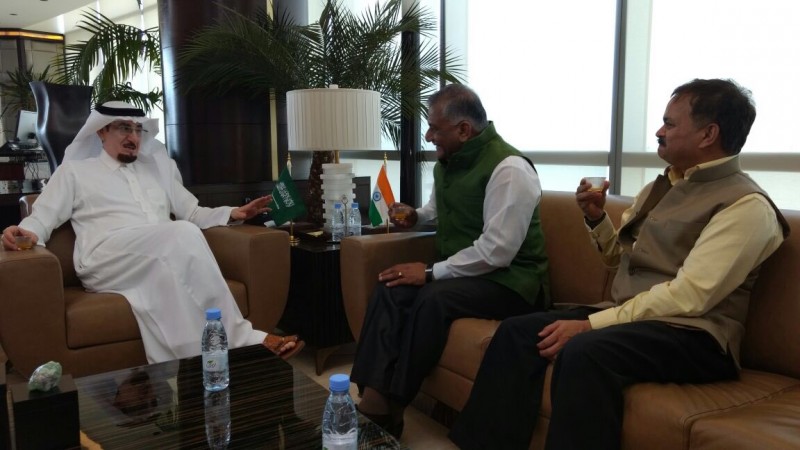 The first batch of 25 Indian workers, who were stranded in Jeddah in Saudi Arabia due to unemployment and lack of basic amenities, left for India on Thursday morning. They were seen off by Consul General of India Noor Rahman Sheikh at the King Abdulaziz International Airport in Jeddah.
The workers were given a packet of dates and holy water, a ritual for people leaving the Kingdom of Saudi Arabia.
India's Minister of State for External Affairs, Gen. Vijay Kumar Singh, was in Saudi Arabia from Aug. 3 to Aug. 5 to supervise the evacuation and assistance to around 10,000 Indian workers going through severe food crisis in the country and complete all formalities related to it.
He had also met Saudi Labour Minister Mufrej Al Haqbani in Riyadh who promised swift action to resolve the issues of all workers who lost their jobs due to economic slowdown in the country.
"I feel happy that I was entrusted with a task to solve the problems of our people who are stranded here... The response and attitude of the Saudi authorities have been very positive. On the ground a lot of things have happened in the areas of cleanliness, health care and food. Saudi officials have gone all out to positively resolve all these issues," Singh said in an interview to the Saudi Gazette on Aug 7.

"In a very magnanimous gesture the government of the Kingdom has said that it will pay for the travel of workers who wish to return home... Attorneys are being assigned by the Saudi government to file claims. Our embassy and the consulate are getting involved to pursue the claims. Whenever the dues are released and whatever is the legal framework in which settlement is reached, we will ensure that the money reaches the claimant," he added.
Consul General @123nrs seeing off 1st batch of 25 workers returning 2 India fm Jeddah. Good start for happy ending. pic.twitter.com/JRbhFgz7m7

— India in Jeddah (@CGIJeddah) August 11, 2016
Workers receivd n seen off by CG @123nrs at airport. All giftd wid pkt of dates n JamJam watr,must 4 all leaving KSA pic.twitter.com/TsFQQ5DwAA — India in Jeddah (@CGIJeddah) August 11, 2016
The Saudi government will transfer Indian workers who wish to stay back in Saudi Arabia to other companies and their Iqama (residence permit) will also be renewed free of cost, Singh said in a statement. He added that the Saudi government would continue to take care of the daily needs of all workers taking shelter in Saudi Ojer camps while the rest would be taken care of by the Indian Embassy.
Singh was greeted with chants of 'Modi Zindabad' (long live Prime Minister Narendra Modi) and 'Sushma Swaraj Zindabad' (long live Minister of External Affairs Sushma Swaraj) when he visited the camps.
Am leaving from Saudi Arabia after facilitating various issues for our citizens working here. See attachments pic.twitter.com/FHAQ1PvMOw

— Vijay Kumar Singh (@Gen_VKSingh) August 5, 2016
Swaraj has been following the developments and had also spoken about it in the Rajya Sabha.
"I assure you that no Indian worker rendered unemployed in Saudi Arabia will go without food. I am monitoring the situation on hourly basis," Swaraj had said, adding that the government had taken the matter seriously.