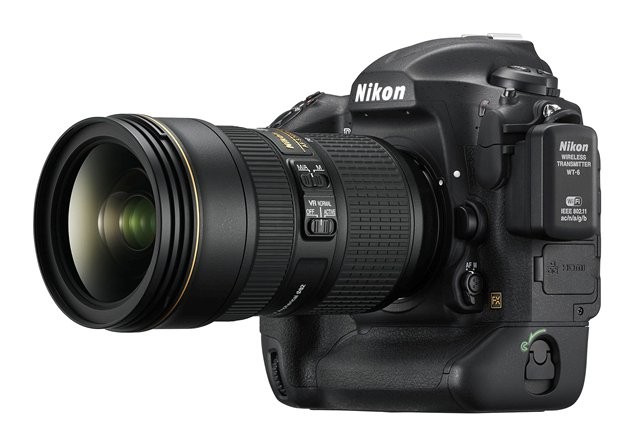 Nikon's single-digit series of cameras is where the features found in consumer-level camera are originally introduced. Nikon's current flagship, the D5, is getting a new firmware upgrade that will add a host of features to the camera's repertoire.
The Nikon D5 is a full-frame DSLR capable of shooting 20MP stills and 4K video. The new firmware, version 1.10 will be enhancing four existing features that the camera already has.
Nine-point dynamic AF
The Nikon D5 features dynamic-area autofocus (AF) that allows users to restrict the number of active AF points. This feature, for instance, could be used to track a moving object and all the photographer has to do is keep the selected AF point on the subject and the camera will automatically engage AF points surrounding the main AF point, ensuring that the subject stays in focus and the camera doesn't focus on a different object by mistake. While normally users have been given the option to choose between 25, 72 and 153 points, the firmware update brings 9-point dynamic-area AF — this gives the photographer better control over what's in focus.
4K video time limit upgrade
When it was introduced, the D5 was the first full-frame Nikon DLSR to shoot 4K video. At the time of being launched, the camera could shoot 4K video for only three minutes. While anybody who has shot on film sock will tell you that that's not a deal breaker in a world of 30-minute video, the camera really felt held back. With the new firmware upgrade, the Nikon D5 shoots 4K video for up to 29 minutes 59 seconds. Fun fact: According to EU trade rules, DSLRs can't shoot video for more than 29 minutes 59 seconds.
Flicker reduction for still images
Another fun fact: Because the world runs on alternating current (AC), artificial illumination, unless specifically developed, tends to flicker. While not perceived by the human eye, cameras more often than not, pick it up. This leads to unevenly lit images. With the firmware upgrade, the Nikon D5 cleverly reads the scene and times the shutter in such a way that the best lit images are the only ones that get clicked.
Electronic vibration reduction
An added means of stability, the final new feature the Nikon D5's firmware brings is electronic vibration reduction (VR). Nikon lenses have optical VR built into them. Up to a certain extent this kicks in while shooting video and stills to keep the frame shake free. With the firmware upgrade, the stabilisation is done without the use of hardware or fancy optics. The feature kicks in while shooting video in HD or full-HD resolution and compensates for camera shake in three directions, vertical (up and down), horizontal (left and right), and rotational (around the centre of the lens).