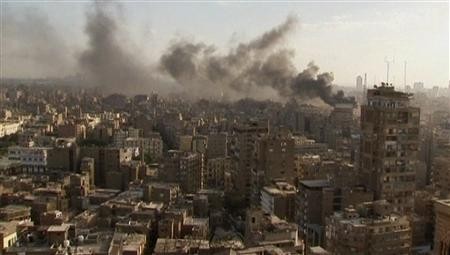 One man died and no less than seven people were injured when 20th floor of a high-rise New York residential building caught fire in Midtown Manhattan, US.
The 27-year-old Daniel McClung had recently moved in with his husband in their apartment and was a playwright by profession. "McClung died after being trapped in a stairwell,"spokesman for the Office of Deputy Commissioner told CNN.
Eyewitness video of high-rise fire burning on Manhattan's West Side http://t.co/fGvzy9Az0l pic.twitter.com/c4eGbBQZAi

— Jon Passantino (@passantino) January 5, 2014
Officials have been unable to identify the cause of the fire that broke out on Sunday evening and the matter is still under investigation.
Stuck on building on 26 floor. Building on fire. pic.twitter.com/c5bDvWke0x — Mickey Atwal (@MickeyAtwal) January 5, 2014
Nearly 200 firefighters were rushed to the high-rise building, three blocks west of Times Square, to stop the fire from spreading to several other apartments on the same floor.
"The main body of fire's been knocked down but there are still smoke conditions inside the building," a fire department spokesman told Reuters.
Due to the unfortunate incident officials shut down several blocks around the skyscraper for easy flow of fire trucks and ambulances, which were later seen parked outside the building.
"I looked out the window and saw in the reflection there were flames coming out of my building," said Christopher Roehrs, a 50-year-old resident of the building, who immediately evacuated after he was awakened by the sound of sirens.
Check out the video when the high rise building caught fire