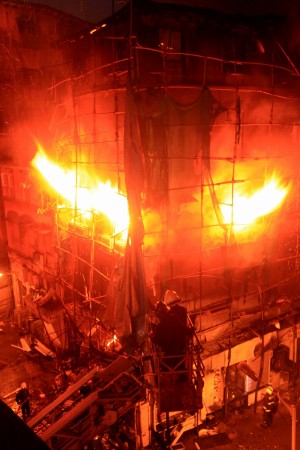 A major fire broke out in a BPCL oil pipeline due to suspected leakage near Wadala in Mumbai on Saturday evening, but there were no casualties, an official said.
The fire started around 6.45 p.m., adjacent to the Eastern Freeway and Mumbai Port Trust (MbPT), besides other sensitive installations.
The blaze raged as scores of firemen from various agencies, including the Mumbai Fire Brigade, the MbPT and the oil companies, battled it for over five hours.
The Eastern Freeway was closed as a precautionary measure as the firemen fought the blaze, an official of the BMC Disaster Cell said.
"The fire broke out in a BPCL oil pipeline running close to the Castrol oil depot situated near the MbPT area. There are no casualties in the incident, but the fire is yet to be capped," said the official, requesting anonymity.
According to witnesses, there was also a series of loud explosions, creating panic among residents.
At least 10 fire-tenders supported by 12 jumbo water tankers were still engaged in the fire-fighting operations.