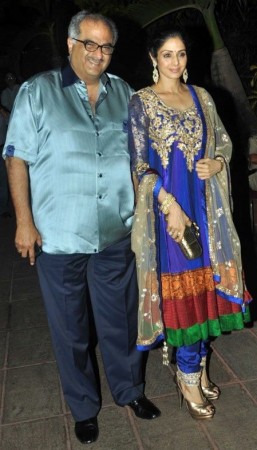 Bollywood couple Sridevi and Boney Kapoor's house has been damaged by fire rendering it inhabitable.
On Saturday, a fire broke out at the veteran actress' Lokhandwala bungalow and damaged a portion of the house including precious items.
The flames reportedly engulfed the actress' bedroom, which housed several of her belongings. Apart from her wardrobe, her valuable artworks were also engulfed in the fire.
The actress, who is a skilled painter, had gifted daughter Jhanvi a Michael Jackson painting, which was damaged in the untoward incident.
"Yes, amongst the damages is Sridevi's painting of Michael Jackson," the actress' manager told the Times of India, confirming the news.
The flames caused due to a short circuit was said to be a minor one as one fire engine was used to bring the situation under control. However, the fire has left the posh mansion largely inhabitable forcing the Bollywood family to look for an alternative.
The family had initially moved to the Kapoor home, but is now said to be looking for a new habitat due to space issues.
"The home is now inhabitable. It will have to be redone entirely which will take months. Though they spent the night at Boney's brother Sanjay Kapoor's home, they cannot all live there for long due to space constraints," said a source to Mid Day.
At the time of the incident, Sridevi was present in the house along with daughters Jhanvi and Khushi.