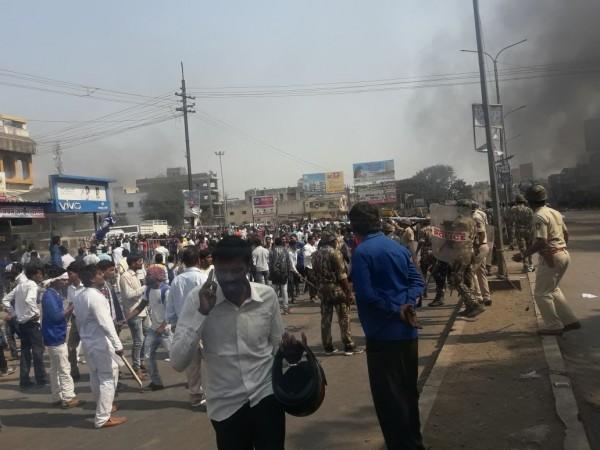 Even as Maharashtra, which witnessed major violence in the past few days, is limping back to normalcy, the Deccan Gymkhana police station in Pune has registered an FIR against Gujarat MLA Jignesh Mewani and JNU student Umar Khalid for allegedly inciting the violence that took place on Monday in Pune.
According to reports, the complaint was filed by two persons, named Bikkad Akshay Gautamrao and Anand Dhond, who alleged that Mewani and Khalid encouraged the people to take to streets and retaliate.
One person was killed, over 50 vehicles were torched and public property was damaged in the violence between the Dalits and the Marathas. The police have detained 300 people till now and 16 First Information Reports have been registered over the incidents.
The police have filed an FIR against Mewani and Khalid under sections 153(A) (promoting enmity between different groups on the grounds of religion, race, place of birth, residence, language), 505 (whoever makes, publishes or circulates any statement, rumour or report leading to mischief) and 117 (betting commission of offences by the public or by more than ten persons) of the Indian Penal Code (IPC), reported ANI.
The Dalit leader and the JNU student allegedly made the provocative statements during an event called Elgar Parishad, which was held on December 31, to mark the 200th anniversary of the battle of Bhima-Koregaon.
Both Khalid and Mewani were scheduled to speak at the Chhatra Bharati event outside Bhaidas Hal Mumbai. But students were forcibly removed from there and a few were detained as well. The students are now protesting outside Juhu Police Station.
#Mumbai: Members of Chhatra Bharti stage protest outside Juhu Police Station after some members were detained by Police. They have been denied permission for their event at Bhaidas Hall, where Umar Khalid & Jignesh Mevani were also invited. pic.twitter.com/AGlxk0dc2O

— ANI (@ANI) January 4, 2018
Meanwhile, protests are still on in some parts of Maharashtra.