How do you distinguish a hate crime from an act of terrorism? The definitions often overlap and motivations, political expediency and a host of other factors are accounted for in determining the nature of the crime.
PM May: Cops treating it as 'potential terror attack'
Prime Minister Theresa May said the cops were treating the latest Finsbury Park incident (one person dead, several injured so far) as a 'potential terrorist attack', reports said.
"I will chair an emergency meeting later this morning. All my thoughts are with the victims, their families and the emergency services on the scene," she said.
The mayor of London released a statement on Facebook, saying the attack was deliberate and targeted "innocent Londoners, many of whom were finishing prayers during the holy month of Ramadan".
"While this appears to be an attack on a particular community, like the terrible attacks in Manchester, Westminster and London Bridge it is also an assault on all our shared values of tolerance, freedom and respect," he said.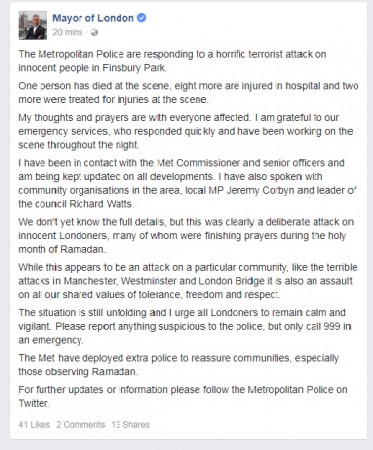 Home Secretary Amber Rudd said: " We must all continue to stand together, resolute, against all those who try to divide us and spread hate and fear."
What twitterati had to say
While a few call it a 'hate crime', others slammed media for biased reporting.
If this guy was "motivated by Islamophobia" as many are saying, that would make it a hate crime, not terrorism. #London

— T-Michael Dougherty (@Tmpd2) June 19, 2017
Wouldn't it be classified as a hate crime? Terror attacks are called that because attackers claim allegiance to organizations like ISIS.

— John Jacob Jingle (@FakeandGay4Ever) June 19, 2017
Hate crime vs Terrorism
According to FBI, a crime becomes a hate crime when there's an added element of bias, says a report. For example, if the victim was killed because of his or her race, religion or sexual orientation.
"Hate crimes are different from other crimes. They strike at the heart of one's identity," FBI Director James Comey said in his speech at the Anti-Defamation League National Leadership Summit in 2014. "They strike at our sense of self, our sense of belonging. The end result is loss: loss of trust, loss of dignity and, in the worst case, loss of life, " said David Stacy, government affairs director of the Human Rights campaign.
The world has never settled on a standard definition of 'terrorism,' but the US code of Federal Regulations defines it as "the unlawful use of force and violence against persons or property to intimidate or coerce a government, the civilian population, or any segment thereof, in furtherance of political or social objectives."