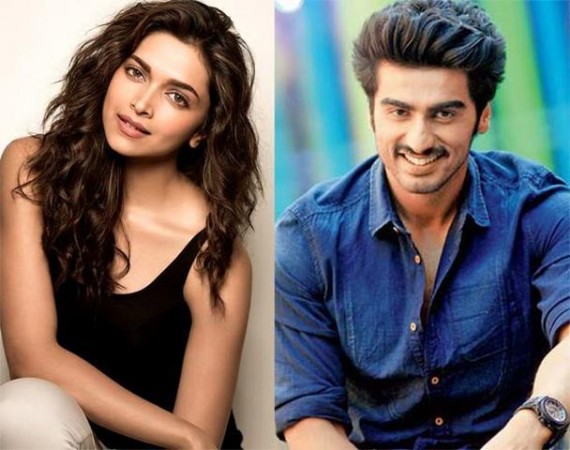 The promo of the much awaited multi-starrer movie "Finding Fanny" is officially out.
The movie will feature stunning actress, Deepika Padukone, who plays the role of a Goan girl, 'Angie' and Arjun Kapoor, as "Savio" in the lead roles. The on-screen couple will be seen together for the first time.
Apart from Padukone and Kapoor, the satirical movie has some random characters played by senior actress Dimple Kapadia, veteran actor Naseeruddin Shah and Pankaj Kapoor.
The film is based on an unusual story of five Goan people, who are on a road trip in search of a lost friend, Fanny.
Though the movie is labelled as a thriller film, from the first look of the trailer, it appears more of a comedy entertainer.
Padukone justifies her look as a Goan girl with her short dress after sporting a South Indian lady in her blockbuster movie "Chennai Express". Junior Kapoor plays Kapadia's son who is a mechanic by profession, but falls into the group in search of Shah's long lost love. Kapoor manages to stand out among the senior actors.
Pankaj Kapoor succeeds in bringing smile on viewers face, while he flirts with Kapadia, who looks cheerful and bubbly in the two-minute trailer. The character played by Shah, has undoubtedly added depth to the film.
The film is produced by Saif Ali Khan's Illuminati Films and presented by Fox Star Studios.
Directed by Homi Adajania, the film presents the actors in a never before seen characters, thus making it a must watch for movie lovers. From the trailer, it looks quite interesting as to how the senior actors fit into the characters.
"Finding Fanny" is Adajania's third movie after he shot to fame with his two flicks, Cocktail (2012) and Being Cyrus (2006). Homi seems to repeat his unusual character of Khan in "Being Cyrus" with "Finding Fanny" as well. The movie will feature the actors in completely different roles.
The plot of the film seems to be inspired by the film, "Letters To Juliet", which is a romantic drama film starring Amanda Seyfried, Vanessa Redgrave, Gael García Bernal, Christopher Egan and Franco Nero. "Letters To Juliet" is also based on finding long-lost love.
"Finding Fanny" is slated to hit theatres on 12 September 2014 and will release in two languages, Hindi and English.
Padukone will be seen in Imtiaz Ali's next "Tamaasha" opposite her ex-beau Ranbir Kapoor. They are currently shooting for the movie in Corsica, France.
Check out the trailer of "Finding Fanny".