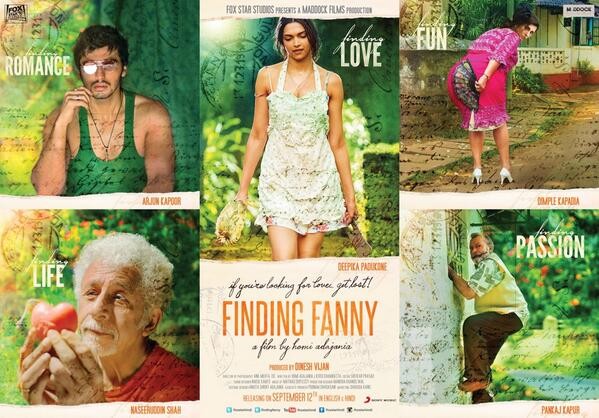 Homi Adajania's "Finding Fanny" starring Deepika Padukone and Arjun Kapoor has created quite a buzz since its trailer was released last week.
The promo has been receiving overwhelming response from viewers as the actors in the comedy flick are presented in a never-before-seen avatar and termed "odd balls" by its makers.
But that's not all! The trailer has in store a tiny glimpse of a surprising character as well.
Ranveer Singh is seen playing a cameo as Deepika Padukone's dead husband in the multi-starrer film.
Interestingly, though the actor plays a dead man's role, Singh's recently posted a picture on Twitter and it appears that he is very excited about his role.
Dead?!...Looks full of life to me... ;) #gabo #findingfanny @homiadajania @arjunk26 @deepikapadukone pic.twitter.com/9ANvo1iMzi

— Ranveer Singh (@RanveerOfficial) July 12, 2014
The actor is seen dressed as a Christian groom and his satirical look makes him much of an "oddball" as his co-stars in the film.
Not all buffoonery @deepikapadukone & #dimplekapadia. Casually treated gravitas @FindingFanny @arjunk26 @ankurtewari pic.twitter.com/YJf0aranoV — homiadajania (@homiadajania) July 14, 2014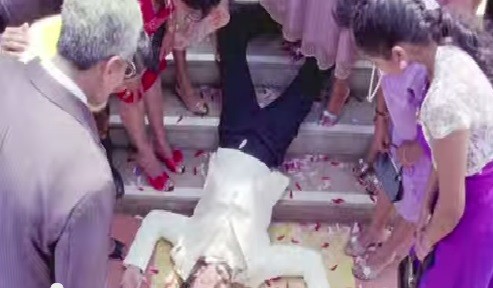 In the trailer, a glimpse of the actor is seen who chokes to death on his wedding day. Padukone was seen narrating that the first time she was kissed was on her wedding day, 15 minutes before her husband (Ranveer Singh) choked to his death."I'm a virgin," she adds.
"Finding Fanny" is about an unusual story of 5 'oddballs' played by Kapoor, Padukone, Dimple Kapadia, Naseeruddin Shah and Pankaj Kapur, who are on a road trip in search of a lost friend, Fanny.
"Finding Fanny" is slated to hit theatres on 12 September 2014 and will release in two languages, Hindi and English.
The trailer has reportedly been viewed over two million times since the day it was uploaded on video-sharing website, YouTube.
Check out the trailer of "Finding Fanny":