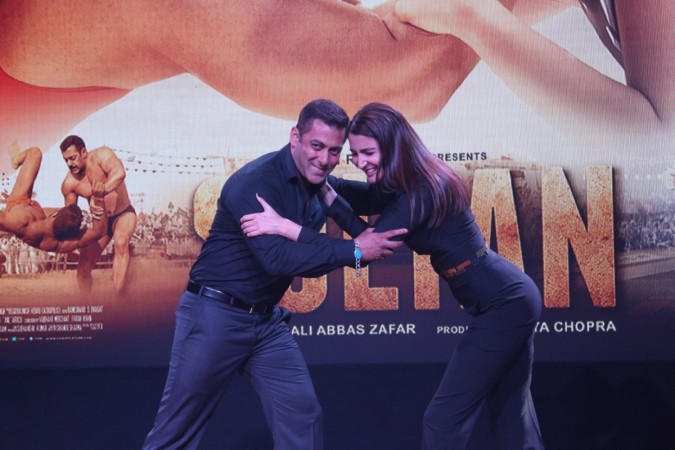 Anushka Sharma is one of the ballsy women the Hindi film industry has today. She is known for not mincing her words and being one of the straightforward, plain-speaking leading ladies that is out there.
In a recent chat with Anupama Chopra, the actress labeled her "Sultan" co-actor's rape remark as insensitive. What she also did was talk about in detail about the kind of equation they share.
They aren't very close and the only relationship they have is a professional one. "I find him very intimidating. He is someone who will not go out of his way to make you feel comfortable. He is going to be himself and do his thing," Anushka further elaborated.
Because the young actress is a shy person, there was no way she could have bridged the gap between her and the superstar. She believes they don't share a rapport where they can make conversations.
"In fact, we have not spoken about anything in the time that I shot for the film with him. We have only spoken during group discussions with Ali (Abbas Zafar), and the ADs," she added.
More often than not, we see how the female lead gets pushed to the back and the hero walks away with all the praises. Anushka was applauded and appreciated by critics and viewers for delivering a solid performance in "Sultan."
For her, it has always been the script over other frills. Talking to Miss Malini, Anushka said that she has to connect to her character adding that she just cannot exist in a film because of beauty. "That's what I've done with all my films and characters. This was the same thing. That's what I was looking for in 'Sultan' and I am so glad that I found it. I found such a strong role. Aarfa was an equal to 'Sultan' and their love was of equals – so that was a great thing!," the web portal quoted her as saying.
In other news, Anushka has wrapped up "Phillauri" and will begin Imtiaz Ali's untitled next with Shah Rukh Khan in August.
Here's Anushka's complete interview with Anupama: