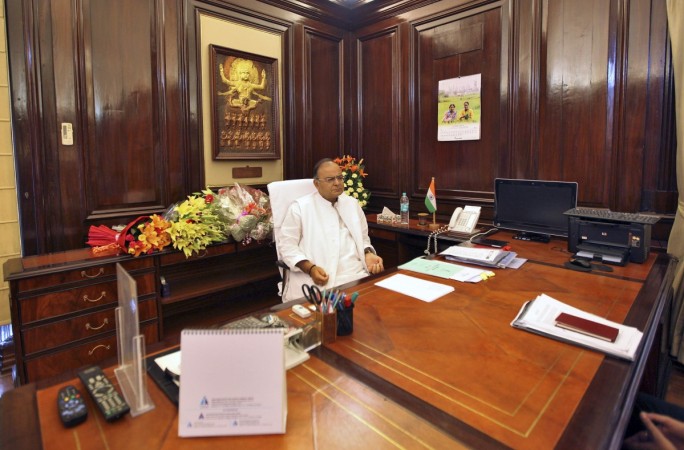 To envisage the outline of Fiscal year 2015, Finance Minister Arun Jaitley will meet merchant bankers in Mumbai on 7 June, Saturday.
Since the formation of Modi led government, Indian markets have attracted more investors. The market has been witnessing a surge in figures and on Friday, it closed at unprecedented figure of 25,396 points.
This meeting will give the new Finance Minister a chance to express the economic line-ups for the Fiscal year 2015.
Banking merchants such as Citibank, Temasek, Bank of America, and Merrill Lynch among foreign companies are likely to attend the meeting, while domestic brands such as LIC, Kotak, Enam and the experts of Bombay stock exchange and National stock exchange might be present, according to Financial Express.
Government has plans to make rupee stronger and more convertible, besides adding more investors to the market.
In March 2014, The Economic Times had reported that the UPA government will borrow ₹3.68 lakh crore up to September in 2014-15; leaving enough room for private sector in the second half when the country is expected to pick up pace.
But, India's external debt at end- December 2013 was $426.0 billion; recording an increase of $21.1 billion. All these factors led to the failure of the UPA-government.
For the Fiscal year 2015, a large number of investors are expected to come from the private sector. Over ₹40,000 crore of equity is likely to be offered from the public sector units and the government proposes to offer ₹15,000 crore from the stake sale in Hindustan Zinc Limited, Balco and Seas Sterlite.
For instance, Rampura Agucha mine in Bhilwara, of Hinduatan Zinc Limited will continue to provide majority of mined metal for FY 2015.
This meeting will be the part of the agenda to revamp the Fiscal policy, which Jaitley will present in Lok Sabha sometime in mid-July. However, all these would require sufficient funding from various sectors to stabilise and enhance the economy.