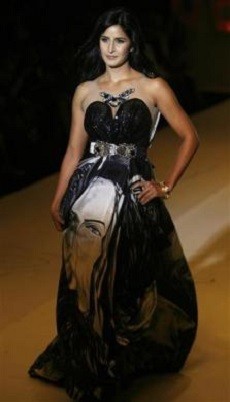 Alot has been said about Katrina Kaif's holiday pictures with boyfriend Ranbir Kapoor. Now, the actress has finally spoken about the sensitive issue in a candid interview and provided input of her sister's London marriage.
Katrina's holiday pictures with Ranbir in Spain has created enough hype and took the media by storm. For a first, it was a confirmation their relationship status and secondly the the actress being clicked in a bikini proved sensational, given her less-revealing demeanor.
As the pictures went public, the enraged actress wrote an open letter to the media expressing displeasure and even called the photographer a 'coward' for clicking her off-guard.
Recently, the 29-year-old actress in an interview to film critic Rajeev Masand spoke on the entire fiasco, voicing her opinions on the unforgiving media.
"If you're an actor, your life is open to the public and if you have problem with that, then this is the wrong profession. I understand that theory."
"My point of view is that if I'm in an unguarded, private moment, is this really required? As an actor, I am prepared for an interview, for press conference, to meet the media on the red carpet or at a movie set. I just wish, well, in an ideal world, that I was left alone in my downtime. That was my private space. Having said that, this was my request. You may not agree as paparazzi, but I put on my opinion," she said.
Recently, Ranbir's cousin Kareena also supported Katrina on the matter saying, "Holidays are a private affair. Also, if you are on the beach, what else will you wear if not a bikini?"
Katrina while speaking on a personal front went on to talk about her family and the recent marriage of her sister Natacha and her preparations, being an elder sibling.
"We're six sisters and I had to make three of the dresses in India. Perhaps its because I have access to designers."
"I've worked on the venue and how its going to be, I took those decisions. I've co-ordinated two hairdressers for six of us. Imagine us all in one room fighting over hairbrushes, clips, blush. And the two younger ones, 20, 21, are always squabbling. I hope they don't read this interview. It's a lot of fighting but a lot of fun too," said Katrina on a lighter note.
The actress , who is back from London where the function was held is now gearing up for her YRF release "Dhoom 3" with Aamir Khan.