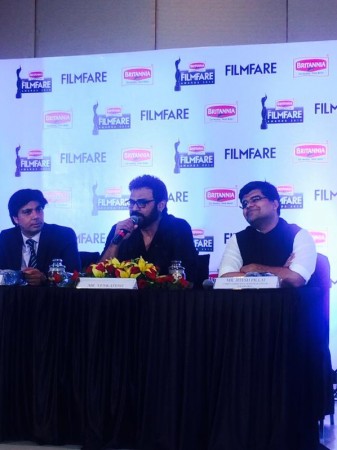 The mania of Filmfare Awards South 2015 has started with the press conference held on Wednesday, 3 July. Telugu superstar Venkatesh has embarked the beginning of the most-awaited award function at the press conference.
At the press conference, the five-time Filmfare award-winning actor said that he share a "a very special relationship" with Filmfare.
Venkatesh said his favourites for this year's best actor awards are Naga Chaithanya and Allu Arjun. Adding to his experience with movies last year, the superstar mentioned that working for "Drishyam" was a different experience altogether.
The superstar also added that he will be announcing two films in the month of July.
Filmfare editor Jithesh Pillai who was present at the press conference said Venkatesh is like a family and also mentioned that a total of 350 movies will compete for this year's Filmfare Awards.
Here are updates from Filmfare Awards South 2015 press conference:
The #BritanniaFilmfareAwards (South) mania kickstarts today with a press conference. Venkatesh to grace the event. pic.twitter.com/Y4ycpPSo0F

— Filmfare (@filmfare) June 3, 2015
The stage is set for the #BritanniaFilmfareAwards (South) press conference. In just some time, Venkatesh will arrive. pic.twitter.com/K57gtrV7Uf — Filmfare (@filmfare) June 3, 2015
And he arrives! Superstar Venkatesh makes a dashing entry at the #BritanniaFilmfareAwards (South) press conference. pic.twitter.com/BcAkFSNuyg

— Filmfare (@filmfare) June 3, 2015
Editor @jiteshpillaai and Victory Venkatesh chat up before the #BritanniaFilmfareAwards (South) press conference. pic.twitter.com/brCkrtzizs — Filmfare (@filmfare) June 3, 2015
Venkatesh lights the auspicious lamp and kickstarts the #BritanniaFilmfareAwards (South) press conference. pic.twitter.com/06fMWWTZGO

— Filmfare (@filmfare) June 3, 2015
"I've a very special relationship with Filmfare." - Venkatesh at the #BritanniaFilmfareAwards press conference. pic.twitter.com/R3ZIomZ1Eo — Filmfare (@filmfare) June 3, 2015
"I'm glad people loved Dhrishaym. It was a different experience for me." - Venkatesh #BritanniaFilmfareAwards pic.twitter.com/FhY6pCzKzG

— Filmfare (@filmfare) June 3, 2015
"Nag & Allu Arjun are my choice for the Best Actor nomination." - Venkatesh at the #BritanniaFilmfareAwards (South) press conference. — Filmfare (@filmfare) June 3, 2015
"I will announce two new films in July." - Venkatesh at the #BritanniaFilmfareAwards (South) press conference pic.twitter.com/AQjRiHv7ik

— Filmfare (@filmfare) June 3, 2015
"350 films are competing this year." - @jiteshpillaai at the #BritanniaFilmfareAwards (South) press conference pic.twitter.com/7BfvMcaaJ9 — Filmfare (@filmfare) June 3, 2015
"Venkatesh is family to us." - @jiteshpillaai at the #BritanniaFilmfareAwards (South) press conference. pic.twitter.com/Wjt86J36Lw

— Filmfare (@filmfare) June 3, 2015
"The #BahubaliTrailer is extraordinary." - Ventakesh at the #BritanniaFilmfareAwards (South) press conference. pic.twitter.com/YKVSpwbfuT — Filmfare (@filmfare) June 3, 2015
"Filmfare and Britannia are both institutions in their own right. - Mr. Ali Harris #BritanniaFilmfareAwards (South) pic.twitter.com/VQnisB2E2H

— Filmfare (@filmfare) June 3, 2015
Ali Harris, Venkatesh & @jiteshpillaai pose for the cameras at the #BritanniaFilmfareAwards (South) press conference. pic.twitter.com/0kK5wWbPpM — Filmfare (@filmfare) June 3, 2015
One more picture of Venkatesh posing for the shutterbugs at the #BritanniaFilmfareAwards (South) press conference. pic.twitter.com/X5bVcRDnGE

— Filmfare (@filmfare) June 3, 2015