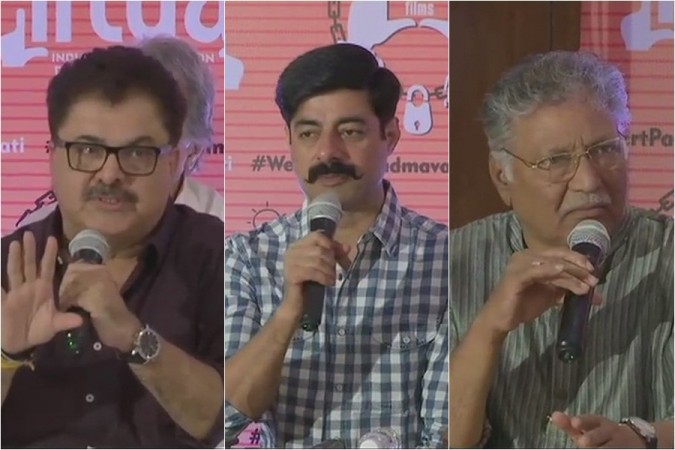 The Indian Film and Television Directors' Association (IFTDA) on Monday appealed the Information and Broadcasting Minister Smriti Irani and Home Minister Rajnath Singh, on behalf of four other associations, to allow freedom for filmmakers in the wake of the ongoing controversy over Padmavati.
Members of IFTDA, Cine and TV Artists Association (CINTAA), Western India Cinematographers Association (WICA), Screenwriters Association (SWA) and Association of Cine and Television Art Directors & Costume Designers, held a press meet in Mumbai later on Monday.
"Five bodies are coming together to make an appeal for freedom of expression for filmmakers. The industry is shocked and we are hurt that a filmmaker like Sanjay Leela Bhansali is being heckled and abused. Bhansali symbolises success of our film industry in many ways, and if he can be treated like this and harassed, things are not right," Ashoke Pandit, IFTDA President, told IANS.
He said their appeal is to the ministers to take note of the controversy and uphold the freedom of filmmakers.
"Nobody has seen the film, yet people are making assumptions and attacking and abusing Bhansali. Similar controversy happened around 'Indu Sarkar'. What will we do? We can't make films to suit everyone's ego. If someone doesn't want to watch the film, don't watch it. If someone doesn't want it to release, go to court," Pandit said.
Filmmaker Ashok Pandi said he felt very strongly about the protests against Padmavati.
"These hysterical protests are a symptom of a very dangerous trend in our country of politicising art. And we must stop this trend before it kills cinema and all other arts," he said.
"Sanjay Leela Bhansali's cinema has nothing to do with politics. Why then do we have goons posing as politicians baying for his blood? What wrong has he done? What harm has he done? He has given us a series of masterpieces and classics. And this is how we repay him?"
"Don't make the mistake of thinking this is only Bhansali's problem. Yesterday it was Karan Johar who was being hounded by political protests and he had to issue a clarification on video, just like Bhansali. Why are filmmakers being made to bend, bow and scrape to these extra-contitutional bullies? It must stop!" said Pandit.
Padmavati, slated to release on December 1, is embroiled in a controversy as some Hindu groups and political parties, including the Congress and the BJP, claim that the film distorts history and wrongly portrays Rajput queen Padmavati, a contention Bhansali has repeatedly rebuffed.
On the other hand, Haryana Health Minister Anil Vij on Monday joined the anti-Padmavati bandwagon and asked the censor board to stall its release.
In a statement here, Vij said the Central Board of Film Certification (CBFC) should withhold the release of film Padmavati "keeping in view the people's sentiments".
"The Information and Broadcasting Minister has already been apprised about people's sentiments in this regard," Vij said.
Opposing the release of the movie, the minister said Rani Padmavati was the pride of the country.
"She, along with 16,000 women, had committed self-immolation (jauhar) after Raja Rana Ratan Singh fell in the war. It is an insult to show a princess of such high character dancing in public. It is highly objectionable as it tampers with history.
"Why don't people like Bhansali get the story of the likes of Alauddin Khilji, who hurt the Indian masses, for their films? There are a lot of sagas of heroes in Indian culture which could be showcased to the society. But Bhansali would not do this as he wants to work for promoting a single ideology," added Vij, who is known for being outspoken.
Meanwhile, Congress leader Shashi Tharoor on Monday took a dig at those criticising Sanjay Leela Bhansali's film saying the controversy over the film is an opportunity to focus on the condition of Rajasthani women and education is more important than "ghoonghats" or head veils.
"Agree totally. The 'Padmavati' controversy is an opportunity to focus on the conditions of Rajasthani women today and not just of queens six centuries ago. Rajasthan's female literacy among lowest. Education more important 'thang Hoog hats'," Tharoor said in a tweet.
In another tweet, Tharoor said: "Just realised that dreaded autocorrect has changed "than goonghats" to "thang hoong hats". Apologies. When I hit "tweet" I was still seeing the correct words I'd typed."
Tharoor's comments also come after BJP member Arjun Gupta, a member of the Central Board of Film Certification (CBFC) advisory panel, in a letter to Home Minister Rajnath Singh said that Bhansali must be punished for "treason".
The Supreme Court has refused to ban the release of the movie.