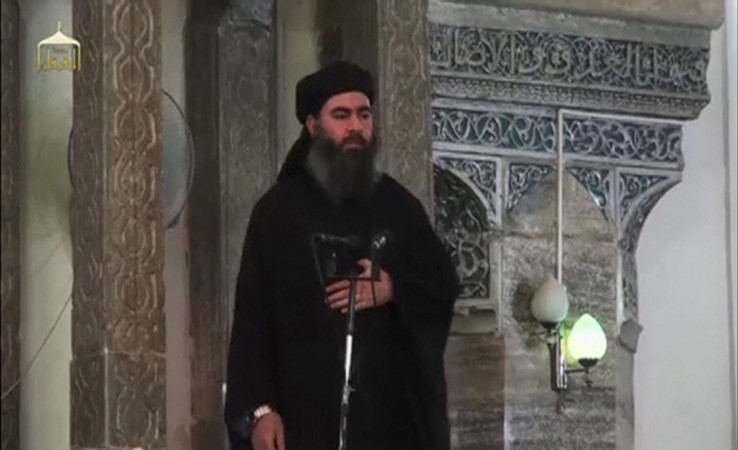 Iraqi forces have reportedly captured two top Isis commanders related to Abu Bakr al-Baghdadi, even as more western fighters arrived to assist Iraqi militias resisting the Islamic State advance.
Reports citing local Iraqi television channels said Isis leader Abu Bakr al-Baghdadi's uncle and the husband of his niece, who are among top-level Isis commanders for the Samarra region, were taken into custody on Sunday.
The Iraqi forces captured the two following an operation near the city of Samarra, Al Arabiya reported.
"A group from the Regiment Special Assignments was able to arrest Baghdadi's uncle, named Saleh Ibrahim Abdulmomen, and niece's husband Dhiya Nouri Sadoun," security source from the southern Dhi Qar governorate's police said.
"The detainees are among the top level of Isis commanders in Samarra," the source added.
Samarra district is located to the east of river Tigris, in Salahuddin governorate, 160 km northwest of the capital Baghdad and often has been a hotbed of sectarian violence.
In what could be termed a major setback for the US-led coalition forces, Isis militants on Monday were able to take over the highway connecting the Iraqi cities of Samarra and Tikrit.
However, it has also been reported that more foreign fighters, especially from Western countries, are now helping the Iraqi militia in their resistance against Isis. Many Western fighters have even joined the Christian militia groups to fight the Isis, notable among them being the Dwekh Nawsha, which in Aramaic means 'self-sacrifice'.
Dwekh Nawsha fights Isis militants alongside the Kurdish peshmerga forces to protect Christian villages in Nineveh.
A US army veteran, whose name has been withheld, told Reuters that he has recently returned to Iraq and joined a Christian militia fighting the Isis. The 28-year-old stated that the war with Isis has turned into a biblical fight heralding the day of judgement as evil takes over the world.
Then there are British citizens, such as 38-year old Tim who closed down his construction business to fight Isis, and US citizen Scott, a software engineer who abandoned his lucrative job to make a difference in the world by fighting the brutal radical group.