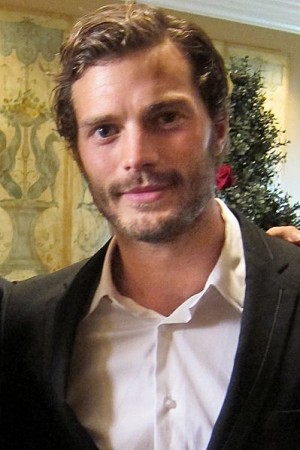 True to its genre (erotic fiction), "Fifty Shades of Grey" movie could have some super raunchy and spicy scenes between lead characters Christian Grey played by Jamie Dornan and Anastasia Steele played by Dakota Johnson. Rita Ora who plays Mia Grey in the film recently revealed that fans could expect some really hot scenes.
"I can't give too much away because I'm sworn to secrecy by a whole army of 'Fifty Shades' people, but I can say there's a really spicy scene..." Ora said in am interview with MTV, adding: "All I'm saying is that it's surprising, you can feel it in the air like when you rub your fingers."
While it was previously reported that the movie will get a NC-17 rating, which means the content is not appropriate for viewers under 17-years of age, it is now being said that "Fifty Shades of Grey" based on an erotic novel of the same name by E.L James may get an R-Rating
"Making this movie will absolutely be a challenge. It is going to take a devoted director who admittedly likes the books and understands that, first and foremost, this is a love story," Lisa Parker from FiftyShadesFilm.com said.
"If telling the love story is the main focus, then we do believe the steamy sex scenes can be shot and edited in a way to get us an R-rated movie rather than NC-17."
"It's not a porno," producer of the film Dana Brunetti further told Access Hollywood on the red carpet of the 2014 Oscars. "Yeah, but it's sexy and hot."
Meanwhile, regarding her role in the movie, Ora said that she has not only put away her musical side but changed her accent too.
"I definitely had coaching, acting coaching. I have an American accent in the movie. I've got a brown bobbed wig. I look really different; It was really nice to get into a whole other world that I wasn't used to, but it was pretty difficult," Ora explained.
"Fifty Shades of Grey" hits theaters on Feb. 13, 2015.
[ED:VS]