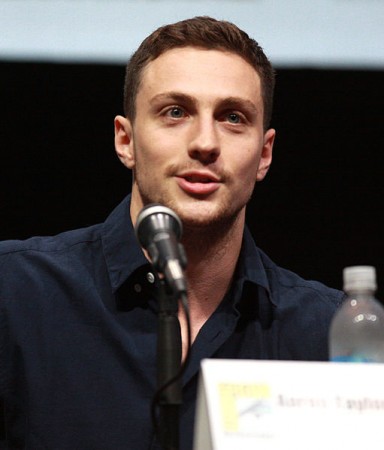 "Fifty Shades of Grey" has got a new addition to its cast as Sam Taylor-Wood, the director of the highly anticipated erotic film, revealed that her actor-husband Aaron Taylor-Johnson would be playing a part in the film.
"Have you found a way to get Aaron in the movie?" Access Hollywood asked Wood at the "Godzilla" premiere in Hollywood on Thursday to which she replied: "Actually, I have".
Wood, 47, and Johnson, 23, had tied the knot back in 2012.
However, there is no word about Johnson's character in the film yet. In his previous interview, the "Kick-Ass" star had revealed the reasons why he was not cast as the film's main lead Christian Grey.
"I think (Fifty Shades of Grey) would have been the wrong kind of hype to bring towards us," he told Nylon magazine in the May 2014 issue. "It would have been kind of funny that this character that all these women fancy - he's one in a million - and my wife picks her husband to play the part?"
Jamie Dronan was roped in to play the role of Grey, where as Dakota Johnson will play Anastasia Steele in the film. Victor Rasuk, who plays Steele's best friend Jose, thinks that the chemistry between the two is hot.
"I've been sworn to secrecy but I will say this: Dakota was amazing," Rasuk told E! at the "Godzilla" premiere. "Jamie was amazing. It was one of those things where we came into it wanting to do it justice. And I think all the fans, the millions of fans, will also love what we did. I think we did it justice."
"Fifty Shades of Grey" is based on the novel of the same name by EL James. The film is set for a 2015 February release.
Other cast members of the film include Jennifer Ehle, Max Martini, Marcia Gay Harden and
Eloise Mumford.