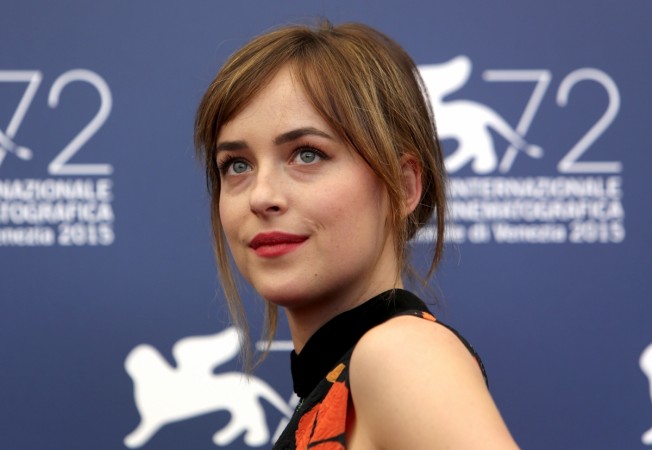 Dakota Johnson and Jake Gyllenhaal's dating rumours have surfaced again. The latest news suggests that the actor wants to be with the "Fifty Shades Darker" star and is "desperate" to win her heart. Reason? This time he's convinced that "She's the one," according to a source.
The "Southpaw" actor reportedly wants her to forgive him for calling it off in 2011. However, she is wary of Jake, the source added.
Dakota, 26, is currently single, after breaking up with her boyfriend of two years, singer Matthew Hilt. Several reports suggested that the two split in June 2016 due to conflict in their schedules. But Enstarz (via Star News) quoted a source as saying that Jake tried to reunite with her even when she was dating the Drowners' guitarist.
"They met up last summer and the sparks were flying all over the place, but she turned him down again and stayed with Matthew Hilt," the source added.
Although Jake and Dakota were seen together in 2011, they never revealed if they are dating. Their dinner date in August 2015 ignited several rumours about them being back together and eye witnesses said romance was in the air.
Months later, the "Brokeback Mountain" actor was rumoured to be in a relationship with several other celebrities and more recently, with Rooney Mara. Until now, Jake's representatives haven't commented on the rumours about the 34-year-old actor and Dakota.
The "How to be Single" star and co-star Jamie Dornan recently wrapped up filming the sequel for "Fifty Shades of Grey" in Vancouver. According to Melty, the cast and crew will leave for Paris to shoot Christian Grey and Ana Steele's wedding scene. Shooting is expected to take place on the banks of River Seine on July 19.
"Fifty Shades Darker" will release on Feb. 14, 2017.