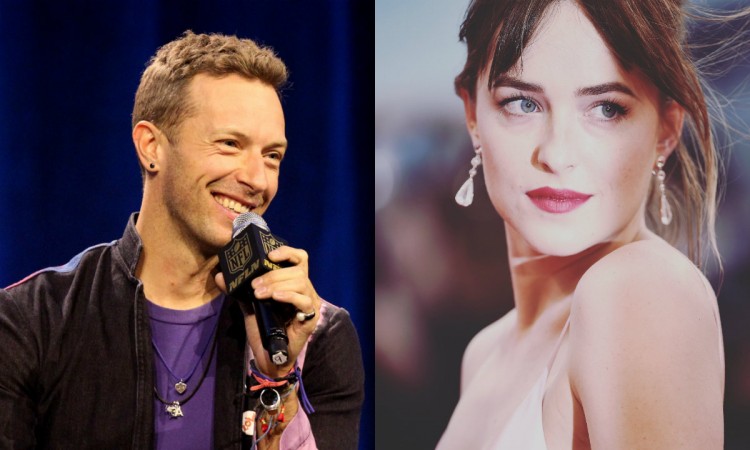 Though fans have enjoyed some steamy music engulfing passionate love-making in Fifty Shades of Grey and Fifty Shade Darker, the real life music and ardour intertwining hasn't been so juicy before.
A little birdy brings news that music met passion when Fifty Shades actress Dakota Johnson and Coldplay lead singer Chris Martin were spotted having an intimate dinner date recently.
Also Read: Tom Cruise has found wife number 4?
Days after it was reported that Dakota might be dating Mad Men star Jon Hamm, guests at a sushi restaurant in Los Angeles told People that they saw Johnson and Martin together by themselves on Tuesday night.
Dinning upon a delicious dinner date, the pair seemed to be having a good time getting to know each other. Onlookers shared that Dakota and Martin were seen getting "cozy, laughing and affectionate" while they enjoyed their meal.
While paparazzi did capture the couple at or leaving the restaurant but with what the onlookers shared, there could be some sparks igniting between the two.
The couple were spotted days after rumours about Johnson dating Mad Men alumni Jon Hamm. The rumour about Hamm and Johnson sparked off when a source close to the actress told Page Six that Johnson and Hamm were sharing a drink at the Viceroy Central Park hotel sometime last week.
An eyewitness revealed, "They seemed to really be enjoying each other's company," and they spent about two hours together. Johnson has been single since her break up with model/rocker Matthew Hitt last year. The two dated on and off for years before they were last spotted in 2016.
As for Martin, he was last linked to British actress Annabelle Wallis. The couple began dating in August 2015 and were spotted together as the singer toured with his band many times. Earlier this year, there were also rumours that Martin was trying to reconnect with another ex, Jennifer Lawrence.