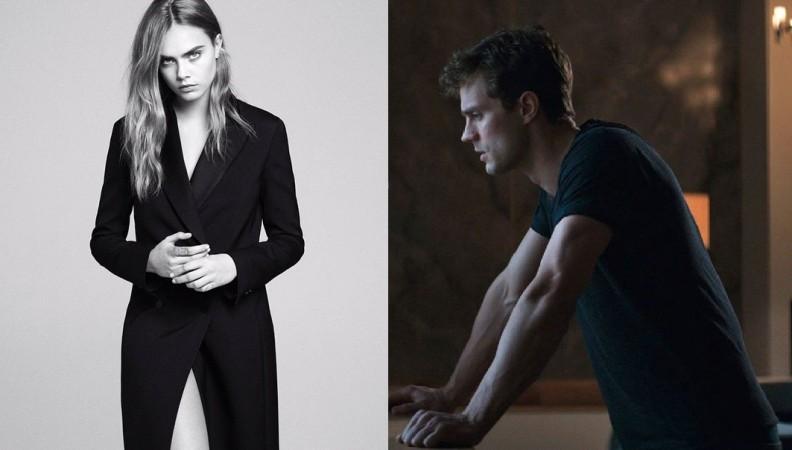 Fans of "Fifty Shades" can rejoice as they will get a double treat from author EL James. Apart from getting to watch supermodel Cara Delevingne in the upcoming sequel of the erotic film, the followers will also get to know about Christian Grey's perspective in the new version of her bestselling book.
Although "Fifty Shades Darker" is still in its early stages of pre-production, it has been reported that the 22-year-old supermodel will portray the role of ex-submissive partner of Jamie Dornan's character Leila Williams.
Other celebs, who are speculated to join the cast list, include Michael Fassbender as Grey's psychiatrist Dr Flynn, Charlize Theron as Elena Lincoln and "Man of Steel" actor Henry Cavill as the boss of Dakota Johnson's character Anastasia Steele, according to The Stir.
Meanwhile, several speculations have also suggested that James will take up the role of a director after Sam Taylor Johnson's departure and her husband Niall Leonard will be the scriptwriter for "Fifty Shades of Grey".
There are also reports that the film will focus on a love triangle between Grey, Steele and Cavil, when it hits the big screen in February 2017.
On the other hand, fans of "Fifty Shades" who have been urging for Grey's perspective, will get to read about it through the new version of the bestselling novel, titled "Grey", which will be available on book shelves from 18 June.
"Christian is a complex character and readers have always been fascinated by his desires and motivations, and his troubled past. Also, as anyone who has ever been in a relationship knows, there are two sides to every story. It's been a great pleasure to return to my happy place-writing, being with Christian and Ana in their universe, and working with the fantastic team at Vintage," James said, according to Variety.