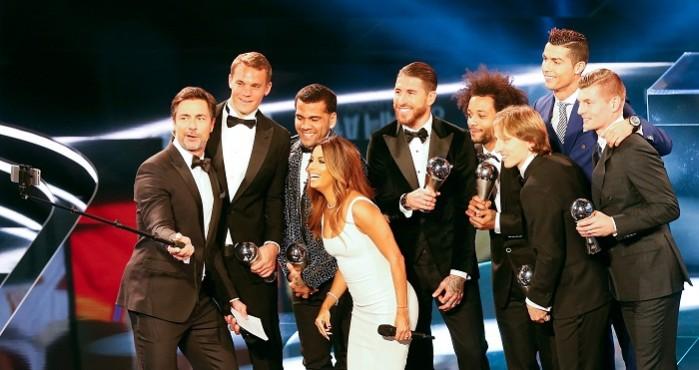 The FIFPro World XI was announced recently and it was no surprise that the team was dominated by players from Real Madrid and Barcelona with only Juventus defender Dani Alves and Bayern Munich goalkeeper Manuel Neuer featuring from clubs outside of Spain.
Also read: Manchester United set to beat Manchester City to Tottenham duo
The event was organised by fifpro, the body that represents players association from 69 countries. The FIFpro World XI team was decided by professional footballers with 26,516 votes coming in this year.
A shocking exclusion from the team was Atletico Madrid's Antoine Griezmann. Despite being a finalist for the Best FIFA Men's Player Award and finishing third in the Ballon d'Or voting, the Frenchman could not make it into the team. Griezmann had a stellar performance in 2016 with Atletico Madrid and the France National team, guiding them to the finals of the Euro 2016. He made the UEFA Team of the Year 2016 and also won the Golden Boot, but still could not make it to the FIFpro World XI. This just goes on to show how good one has to be to make it to the team.
There were three changes from last year's team with Pique, Kroos and Suarez coming in for Thiago Silva, Paul Pogba and Neymar. It was a major shock as no player from England's top teams made it to the team, despite English and Welsh clubs providing the most votes, a record 1,884.
Manchester United's Paul Pogba missed the chance to get into the team by two votes, the smallest margin in the awards history. The last two England-based players to make the team were Manchester United duo Wayne Rooney and Nemanja Vidic back in 2011. This was the first year in the awards' 12-year history that Wayne Rooney missed the cut for the 55 player short list.
The only Englishman on the list was Jamie Vardy who finished 13th out of the 15 forwards in the voting. The other player from an English team who made it close to getting into the team was Kevin De Bruyne who finished as the ninth best midfielder.
This just goes to show that despite the Premier League having a better global reach as compared to the other top leagues in the world, there is a huge quality gap with the top teams from Spain. No team from the Premier League has been able to make their mark in Europe for quite some time now with Spanish clubs dominating Europe's elite competition in recent years.
Here is the complete FIFpro World XI
Goalkeeper: Manuel Neuer (Germany, Bayern Munich)
Defenders: Daniel Alves (Brazil, Barcelona, Juventus), Marcelo (Brazil, Real Madrid), Gerard Pique (Spain, Barcelona), Sergio Ramos (Spain, Real Madrid)
Midfielders: Andres Iniesta (Spain, Barcelona), Toni Kroos (Germany, Real Madrid), Luka Modric (Croatia, Real Madrid)
Forwards: Lionel Messi (Argentina, Barcelona), Cristiano Ronaldo (Portugal, Real Madrid), Luis Suarez (Uruguay, Barcelona)