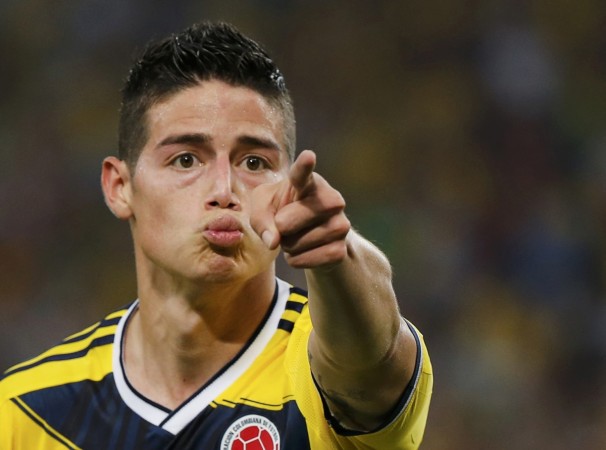 Colombia playmaker and World Cup's current top scorer James Rodríguez could well have formed a lethal partnership with Robin van Persie and Wayne Rooney at Manchester United, but it wasn't to be so. Back in 2010, the Red Devils reportedly let go of an opportunity to snap up the player for £5m and chose to sign Portuguese forward Bebe instead.
Rodríguez's red-hot form in this World Cup has made most defences wary of his every move on the field. The 22-year-old has notched up five goals and two assists in four matches so far and has been instrumental in setting up Colombia for a quarterfinal clash against hosts Brazil.
The attacking midfielder netted two goals against Uruguay to eliminate them in the Round of 16 match. Oscar Tabarez, the Uruguay coach, labeled him this World Cup's best player and likened him to football legend Diego Maradona and current stars Lionel Messi and Luis Suarez, in terms of talent.
Rodríguez is now an established player at Monaco, after joining the club from Porto for around £38.5m last summer.
However, United had the opportunity to land him for £5m four years ago, reported The Guardian. The Red Devils, who endured a terrible season - finishing seventh and missing out on Champions League - this year, will be regretting letting the opportunity slip past their hands.
Senior scouts at Old Trafford in 2010 were intermediaries, when Rodriguez - a teenager back then and playing for Atlético Banfield in Argentina - was trying to carve out a niche for himself. The player debuted at the age of 17 for the Argentine club and helped them to their first league championship in 2009. He was also the youngest foreigner to have played in the Argentinean top-flight. Even at the age of 17, his talent was noticeable as the club's manager Julio Falcioni was convinced he would excel in Europe and for his country, according to the report.
Despite the wide praise and hype, the player was still available for as little as £5m when he was recommended to United in 2010. The club has permanent talent scouts in South America and had close ties with the region.
Sir Alex Ferguson was close to securing the services of striker Javier Hernandez from Guadalajara at that point. And the agents, who wanted to bring Rodríguez to Europe, failed to receive a response from United. A few weeks later, the Red Devils also shelled out £7.4m for Bebe.
Rodríguez, in the meantime, moved from Argentina to Portugal, signing for Porto for £4m, with 30 percent of the player's economic rights retained by third parties. The Colombian was part of André Villas-Boas' unbeaten side that won the domestic double and Europa League that season.
United showed interest in him again during the winter transfer window of 2013. Chelsea appeared interested as well as they inquired about his availability but by now the Rodriguez's price tag had seen a considerable increase, while a hefty release clause had also been inserted into his new contract. Matters were further complicated by third party ownership issues and the player made his way to France to play for Monaco.
After his scintillating World Cup performances, clubs would be lining up to sign the playmaker. It remains to seen whether he will remain with Monaco. Real Madrid, Barcelona and Napoli have already shown interest in the player.
Rodríguez has already expressed a desire to play in Spain, after Saturday's win against Uruguay at the Maracanã.
"It would be a dream to play in Spain, one of the best leagues in the world," the report quoted the player.
Meanwhile, Brazil coach Luis Felipe Scolari is scratching his head, trying to figure out a way to stop the marauding Colombian, when the two sides meet on Friday.