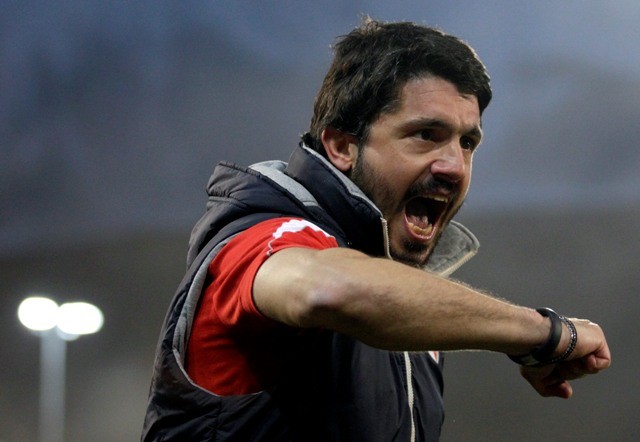 Italy veteran Gennaro Gattuso may not quite look that perfect a candidate to replace Louis van Gaal as the Manchester United manager, but the former no-nonsense defensive midfielder's passion might lure the Old Trafford bigwigs to consider him as a potential candidate.
The 38-year-old AC Milan legend, who is currently the head coach of Pisa, has admitted that he can walk all the way to the Theatre of Dreams if he is offered the job as the next Manchester United manager.
Gattuso is currently the head coach of Pisa, who play in the Serie C -- the third-highest football division in Italy. To be honest, he doesn't have that perfect a CV to contest against someone possibly like Jose Mourinho -- reportedly shortlisted as a candidate to become the next United manager.
As a player, there has been no doubt of the abilities of the former Italy captain, but as a manager, well, there is a doubt. However, Gattuso is one person who has never lacked passion both on-and-off the field as he says he is ready to walk around 2000 km from Pisa to Manchester if he is announced as the new United boss.
"I'd walk there. I'd even go tomorrow," Gattuso told the Sun. "[Sir Alex] Ferguson has always respected me — and I have always admired the Premier League which, for me, is the best league in the world."
"In Italy, we are tactical masters, but in England you see pacey players — with great strength in their legs," he added.
Gattuso, who donned a player-manager hat for Swiss club FC Sion in 2013, also mentioned that he makes sure to follow English football on a regular basis as apart from the physical play during matches, he also loves the passion among the English football fans.
"I love watching the Championship, because in those games, I see true love that people in England have for football. They breathe football," Gattuso continued. "I record two Championship matches a night."
"In Italy, some teams can relax during games. In England, with every action of a team, there is a corresponding action from the opposition," he explained.
Gattuso, a winner of the UEFA Champions League on two occasions with Milan, was appointed as the manager of Sion in February 2013 and he was sacked from the position in May 2013. He was then appointed as the manager of Palermo in June 2013 and was sacked again in September 2013.
On June 2014, he was appointed the manager of Greece side OFI Crete, where he resigned after a few months in December 2014.
Gattuso became the manager of Pisa only in August 2015.