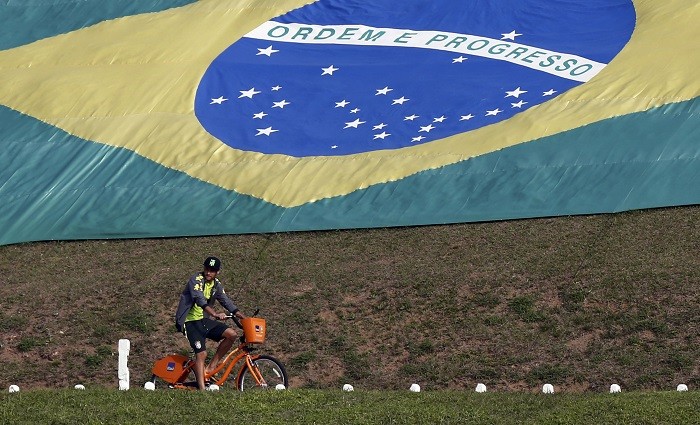 Neymar, James Rodriguez, Karim Benzema, Thomas Muller, Lionel Messi, Eden Hazard, Arjen Robben and Bryan Ruiz – eight players that have starred for the eight teams in the quarterfinals of this fantasy 2014 FIFA World Cup in Brazil; eight players who need to continue to sparkle in what they will hope are the next three matches towards that ultimate glory.
If the World Cup so far has been invigorating, gripping, enticing, exciting, thrilling (easy to go on, you know) and various other adjectives, it should only get better – after all, all eight of the group winners have entered the quarters, meaning the eight best and most in-form teams (read Costa Rica) are still in this tournament.
So, no easy games -- not that there have been too many in this World Cup, even in the group stages – no "Ok this team look nailed-on to go through"; it's going to be a roller-coaster anybody's game quartet of quarterfinals.
The first one scheduled is a humdinger -- France vs Germany. Two European giants, two former World Cup winners, and two teams who definitely have the talent to go all the way and loft that golden glinting iconic cup at the Maracana, the venue of this last eight encounter as well, in ten days' time.
Germany will start the match as the slight favourites, but Joachim Low's men will need to perform a lot better than they have done so far in this FIFA World Cup 2014. Germany were expected to steamroll their opposition in the group stages, and they started off on a stunning note with that mauling of Portugal. Since then, though, the performances have tapered off a little bit, and the real Germany needs to stand up come quarterfinal day Friday.
France had two things going for them heading into this World Cup: a) reduced expectations due to their disastrous 2010 World Cup outing and form over the last few years and b) a relatively easy group, from which they would have needed a disaster bigger than the one in South Africa to not qualify from.
The second aspect was negotiated as expected, with Didier Deschamps' men coming up trumps as group winners with a couple of big victories, and now France will know the expectations, and with it the pressure, will only rise the longer they stay in Brazil.
After the "hope it lives up to the expectations" France vs Germany match, comes the possibly even bigger Brazil vs Colombia encounter. Two South American teams with varied expectations and indeed varied form.
Brazil have failed to convince with pretty much every match, and they were extremely lucky to overcome Chile in the last 16. Another tepid performance like the one in Belo Horizonte, and Brazil (Neymar cannot do it all alone) will get knocked out – such has been Colombia's form at this World Cup.
They have lit up the tournament with their effervescent, extremely effective attacking football, and if Brazil are not at their best, James Rodriguez and co. will send an entire nation into collective depression.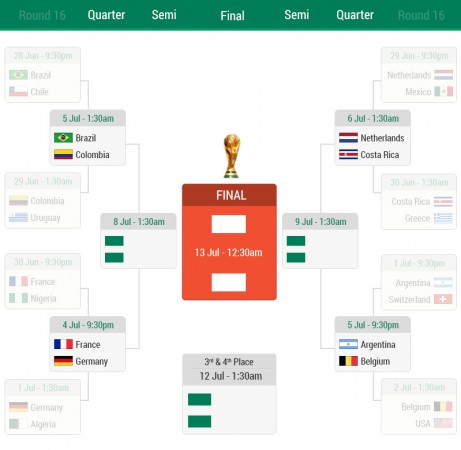 The first couple of quarterfinals should whet the appetite for the final two on Saturday, with Argentina looking to quell the Belgian gallop (a little play on the dark horses there) and Netherlands looking to avoid becoming Costa Rica's next big scalp.
The Argentina vs Belgium quarterfinal should be an interesting one – two teams that have struggled to break down their opposition until the final moments, and two team filled with attacking stars, who have failed to live up to their reputations.
Only Lionel Messi has really come to the fore consistently amongst the individuals for Argentina and Belgium combined. Angel Di Maria had a decent game against Switzerland, scoring the winner, but has blown hot and cold, while Gonzalo Higuain might as well not have played at this World Cup, such has been his powers of invisibility.
Eden Hazard has not impressed even remotely -- those mazy dribbles and cut-backs as rare as bad goalkeeping at this World Cup.
Football is not a game of individuals, and if Argentina continue to play the way they have, Messi will learn that particular lesson in the most cruel manner, while Belgium need a bit of "now that's what I'm talking about" spark from Hazard.
Rounding off the delectable four quarterfinals is an interesting clash between Holland and Costa Rica. The Central Americans have already dented Uruguay and Italy in this World Cup, and if the Dutch are not careful, they could be next in line.
Louis Van Gaal's side have struggled to function with the ball at their feet for long periods – they are undoubtedly at their best when able to jump on a quick counter, with Robben rampaging forward in ridiculous speed. If Costa Rica play a smart game, like that have in their last four games, then the Netherlands could be in trouble; but then, on the flip side, Van Gaal has shown time and again he is a master tactician, and that just might eventually be the difference between a place in the semifinals and that long flight back home.
FIFA World Cup Schedule Quarterfinals:
4 July: France vs Germany, Maracana, Rio De Janeiro (1 pm local time, 9.30 pm IST, 5 pm BST, 12 pm ET).
4 July: Brazil vs Colombia, Estadio Castelao, Fortaleza (5 pm local time, 1.30 am IST, 9 pm BST, 4 pm ET).
5 July: Argentina vs Belgium, Estadio Nacional, Brasilia (1 pm local time, 9.30 pm IST, 5 pm BST, 12 pm ET).
5 July: Netherlands vs Costa Rica, Arena Fonte Nova, Salvador (5 pm local time, 1.30 am IST, 9 pm BST, 4 pm ET).