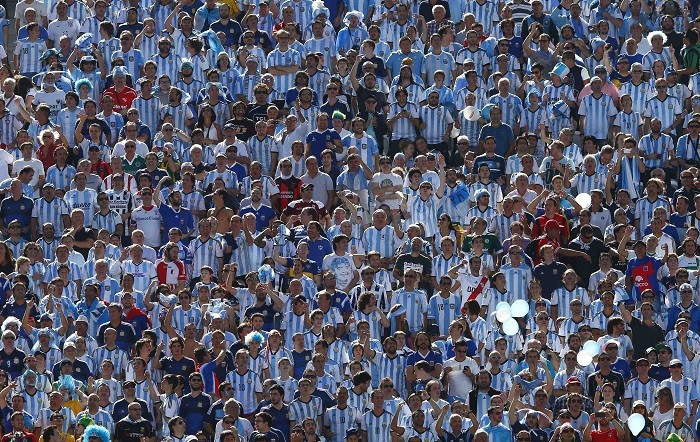 One, a game that everyone is waiting with baited breath to see, and the other, a match that none of the teams particularly want to play, and matters very little to the fans as well. The final two matches of this spectacular 2014 FIFA World Cup promises a few more of that nail-biting "wow, now that is what I'm talking about" action as Germany and Argentina chase the ultimate glory, while Brazil and Netherlands look to end their campaign on a high note.
Pretty much all of the 62 matches so far have been humdingers, with a few exceptions, of course (yes, that Netherlands vs Argentina semifinal), and you wouldn't want to bet against the last two throwing up a few more "what a goal" moments.
One is way, way more important than the other, obviously, with the third-place playoff seen by most as a bit if a "what there is such a match, what on earth for, who cares which team finishes third." The third-place playoff, in front of the finale, the glory game, the one that everyone wants to see, and quite a bit of the World Cup will, is a bit like salad that comes with a nice juicy steak, or some cheese or mashed potatoes (if you're not a carnivore) – inconsequential and you are kind of wondering just what it is doing on your plate.
But there it is, staring at you and you can't help yourself but take a few bites out of it – and when Brazil take on Netherlands in Brasilia, there will be that feeling of "this is not needed, but since it is there, might as well enjoy it."
For Brazil, this match is about redemption – not anywhere near enough to make themselves and their legion of fans whole, but a small step towards it. Nobody envisaged the manner in which Brazil would get knocked out of this World Cup – 7-1 is a scoreline that does not come around too often in a match between two big teams, especially in the semifinal of the world's biggest football tournament.
Luiz Felipe Scolari and his band of overly emotional men will be keen to right some of the wrongs from that match, by, at the very least, putting in a solid defensive performance, while adding a few goals at the other end as well.
Goals, though, might not come so easily, considering the fact that they will be up against a team which hasn't conceded in over 240 minutes. The Netherlands were burned in the penalty shootout by Argentina in a semifinal that was so tactically astute defensively that everyone forgot how to attack.
Holland, no doubt, will again be tight at the back, and it will be interesting to see just how Brazil find a way through without Neymar in their lineup – although their talisman will be at the stadium watching the match.
A day after the third-place playoff is the big one – the final at the Maracana, between two teams who were tipped to be there at the start of the tournament. Germany vs Argentina, on paper, looks like being a war between two teams with a glittering array of forwards and midfielders, all capable of lighting up the final with a swing of their boot.
So, hopefully, it will not be a war of attrition like so many of the knockout games have been at this World Cup, especially the ones involving Argentina. The South Americans, ironically, came into this tournament with a few worries about their defence, but it is just that aspect which has helped them reach the final.
Every single game that Argentina have won at this World Cup has been by the odd goal, with the only one that did not end with that scoreline being the semifinal which finished 0-0 at the end of extra time, before Lionel Messi and co. prevailed in the penalty shootout.
Messi will again have the weight on his shoulders to produce the moment of magic, and the Argentina skipper will want to score his first goal of the knockout stage, after firing on all cylinders in the group games.
Looking to stop Messi from marauding in the final, of course, will be that ruthless, efficient machine called Germany, whose confidence will be at never-seen-before levels at the moment after netting seven stunning goals against Brazil.
Germany will know this final will not be as easy, or open, but if they find anything resembling that verve again, then Argentina could be in serious trouble.
FIFA World Cup Schedule:
Third-place Playoff: 12 July: Brazil vs Netherlands, Estadio Nacional, Brasilia (5 pm local time, 1.30 am IST, 9 pm BST, 4 pm ET).
Final: 13 July: Germany vs Argentina, Maracana, Rio De Janeiro (4 pm local time, 12.30 am IST, 8 pm BST, 3 pm ET).