The group stages of the 2014 FIFA World Cup Brazil could not have been more exciting, even if you had dreamt of it – there were goals (plenty of them), red cards (a few), saves (some outstanding ones), individual brilliance (read Lionel Messi, Arjen Robben and that ridiculous Robin Van Persie goal), late, late goals (too many to name) and of course the event that literally took a bite out of the game and defined the group stages, unfortunately (Luis Suarez's "alleged" bite on Giorgio Chiellini).
So, the group stages will be really difficult to top won't it? Just don't tell that to Brazil, Chile, Netherlands, Mexico, Colombia, Uruguay, Costa Rica, Greece, France, Nigeria, Argentina, Switzerland, Germany, Algeria, Belgium and the USA. Undoubtedly, all of the 16 teams are already plotting some more brilliance, stupidity and "did you see that! That cannot be true" moments.
This is when the FIFA World Cup 2014 gets serious – not that it wasn't already – but that intensity, seriousness, desperation just gets cranked up that wee bit as the tournament goes on.
There are no second chances anymore, no "OK, so we lost the first game, we can still win the next two and stay alive" -- it is do or die, score goals or go home, or at least defend like your life depended on it and nick it in the penalty shootout.
Brazil will be first up in the second round, facing a tricky tie against Chile, who have been one of the most vibrant teams in this tournament. While Brazil showed plenty of quality going forward in their final group game against Cameroon, there were also plenty of signs of problems at the back; if Brazil do not sort their defence out, Chile, with their ridiculously quick forwards, will punish them.
But then, Brazil always have a way to step up their game at the World Cup, and Chile will be well aware of their 12th man as well – the brilliant home crowd.
The winners of the Brazil-Chile match will take on the winners of the Colombia vs Uruguay game, an all-South American clash which looks like going Colombia's way, considering all the issues that Uruguay have at the moment – as they showed in their first game against Costa Rica, they are not half as good a team without Suarez, and Suarez will not take part in the World Cup anymore.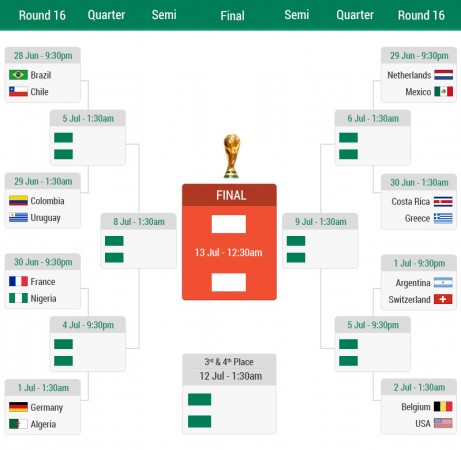 Then comes the Netherlands vs Mexico match. Holland will be weary of Mexico's solid defence and ability to hit on the counter, and it will be interesting to see if the Dutch yet again sit back and invite pressure and then pour forward, or be more proactive by monopolising possession.
The winners of that game will take on the team that comes up trumps in the clash between Costa Rica and Greece. Not many would have tipped either team to reach the knockout stages, and it will be interesting to see which side come out with smiles on their faces at the end – probably the one that do not get too overawed by the occasion.
The triumphant team from the France vs Nigeria match take on the winners of Germany vs Algeria, with the possibility of an all-European quarterfinal looking quite possible. Nigeria and Algeria will definitely want to have their say, though, and make it an all-Africa clash as well, but France and Germany should have enough firepower to move through.
The final set of last 16 clashes will be an intriguing one between Argentina and Switzerland and a can-go-either-way Belgium vs USA matchup.
Argentina are relying a little too heavily on Messi's magic, but it will not bother them too much as long as their skipper keeps playing like he has. If Messi comes to the fore, then Switzerland will be able to do little.
The final last 16 clash is an interesting one as well. Belgium showed in all three matches, they know how to win games, even if their football might not have always been the best. USA, though, also showcased their abilities quite well, and Jurgen Klinsmann's men are capable of giving any side a run for their money.
Belgium edge it on talent, but USA have the firepower and tenacity, coupled with a brilliant support, to come through.
FIFA World Cup Round of 16 Schedule:
28 June: Brazil vs Chile, Estadio Mineirao, Belo Horizonte (1 pm local time, 9.30 pm IST, 5 pm BST, 12 pm ET).
28 June: Colombia vs Uruguay, Maracana, Rio De Janeiro (5 pm local time, 1.30 am IST, 9 pm BST, 4 pm ET).
29 June: Netherlands vs Mexico, Estadio Castelao, Fortaleza (1 pm local time, 9.30 pm IST, 5 pm BST, 12 pm ET).
29 June: Costa Rica vs Greece, Arena Pernambuco, Recife (5 pm local time, 1.30 am IST, 9 pm BST, 4 pm ET).
30 June: France vs Nigeria, Estadio Nacional, Brasilia (1 pm local time, 9.30 pm IST, 5 pm BST, 12 pm ET).
30 June: Germany vs Algeria, Estadio Beira-Rio, Porto Alegre (5 pm local time, 1.30 am IST, 9 pm BST, 4 pm ET)
31 June: Argentina vs Switzerland, Arena de Sao Paulo, Sao Paulo (1 pm local time, 9.30 pm IST, 5 pm BST, 12 pm ET).
31 June: Belgium vs USA, Arena Fonte Nova, Salvador (5 pm local time, 1.30 am IST, 9pm BST, 4 pm ET).