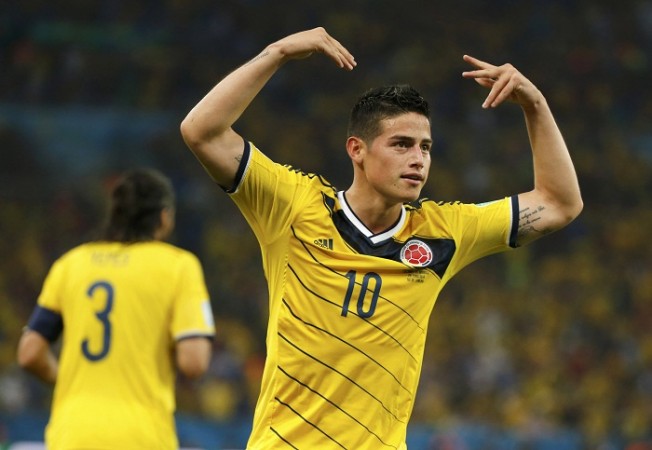 Uruguay coach Oscar Tabarez has compared Colombia's James Rodriguez to Diego Maradona, Lionel Messi and Luis Suarez, after his match-winning performance against La Celeste in the Round of 16 on Saturday.
Rodriguez scored a brace to knock out Uruguay from the tournament. The 22-year-old is now the top scorer at this World Cup with five goals - one ahead of Thomas Mueller, Neymar and Messi - and has scored in all four games for the South Americans.
"For me, talents are those who do things that have nothing to do with their life experience," Tabarez said. "Diego Maradona, Lionel Messi, Luis Suarez and James Rodriguez - they do things because they have a certain gift which makes them special."
"It is not up to me but I believe from what I have seen that he is the best player in the World Cup."
The 67-year-old admitted that Uruguay missed star striker Luis Suarez, who is banned for nine international matches and four months for biting Italy's Giorgio Chiellini in the last game, but denied that the saga demoralised the team.
"Among the things we discussed before the match, we all knew about what happened but we had to stop thinking about it," Tabarez stated. "We said we should only bring out the positive things that could come out of this situation."
Meanwhile, Colombia coach Jose Pekerman said that they made a few changes for the Uruguay clash, which all paid off. He pointed out his team's solid first-half performance, in which they managed to take the lead through Rodriguez's 28th-minute strike.
"I'd like to congratulate the whole of Colombia because they deserved this," Pekerman said. "We made some alterations because we knew how strong our opponents were - it's really important to know about the opposition."
"The main factor (in this win) was the first half, when we were very solid and managed to get ahead. It's great to have a player like James Rodriguez, and his confidence was very high after our previous game."
The AS Monaco player, who scored in the 28th and 50th minutes for Columbia, said he is delighted to score in the Maracana but stressed that they have to play better in the upcoming games. Rodriguez added that there are harder matches waiting for them but the players are confident.
"It's historic, a dream come true: I always wanted to score in the Maracana and now I have," Rodriguez said. "If you want to win, every player is important. Uruguay had a lot of men behind the ball, so we needed plenty of movement up front and we got it. Now things are going to get even harder, but we can go far."