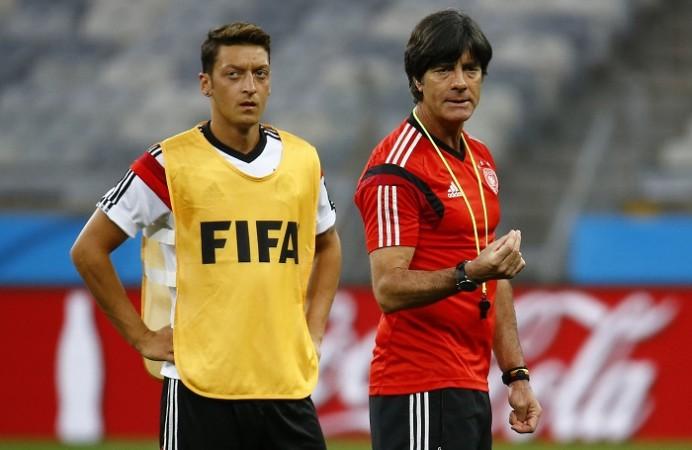 Mesut Ozil, when on song, is a dream to watch. The way he glides with the ball at his feet, and without even looking, finds the inch-perfect pass is a thing of beauty. For that, though, Ozil needs to play in his favoured position – the No.10 role behind the striker.
However, at this 2014 FIFA World Cup, that role has evaded him, with Joachim Low asking his supreme playmaker to do a job on the wings, as Germany switched to a 4-3-3 formation from a 4-2-3-1. And, Ozil, not too surprisingly, has struggled; not that he has done too much wrong, but when you have a player of the calibre of Ozil, and he is not making enough of a contribution to his side, there will be moans and groans.
Those moans and groans have reached such a crescendo that calls for the previously undroppable Ozil have heightened as Germany head into this make-or-break semifinal against Brazil. This is a game that Germany really cannot afford to lose, even if the pressure might be more on the hosts. Having reached their fourth straight semifinal at the World Cup – a record – Germany will not want to bow out in the last four stage for the third consecutive time; hence the calls for Ozil to take some rest on the bench.
But then, any team that has a Mesut Ozil in their lineup and does not play him has to be crazy – such is the talent of the man. So, he plays, irrespective of whether the position suits him or not, and as far as the coaching staff are concerned, Ozil is doing exactly what they expect him to do.
"We see that differently than you do," Germany assistant coach Hansi Flick told reporters when asked about Ozil's disappointing show at this World Cup. "Mesut is playing a different position now than he used to and he's got a different assignment now. He's got very strong skills with the ball and on top of that he's improved during the course of the tournament.
"We're very satisfied with Mesut. He brings a lot of confidence with the ball into our game and is always ready for a pass. You've got to remember that he was injured at Arsenal and he wasn't able to get quite back to the level that he has played at. But we're satisfied and if the coaches are satisfied, that's the important thing."
Ozil was the star of the Germany show when the team were playing in a 4-2-3-1 formation with the Arsenal playmaker pulling the strings from his favourite position. He was the darling of the media as Germany played some delightful football, with bags and bags of goals, most of them assisted by that magical left foot.
"Everyone knows I am a playmaker, that is my favourite position, but the coach decides," Ozil said earlier in this tournament. "Now I am playing wide, and have I played there a lot as well. I don't have all the freedom I did but that is not an excuse. I know what I can do, but my favourite position is another one."
Like Flick said, Ozil helps in keeping the ball for Germany, and possession helps you control the flow of the game like no other. It might not guarantee results, but Germany have been successful so far at this World Cup in Brazil courtesy the 4-3-3 formation, with Thomas Muller, more often than not, playing as the central striker.
That formation has come at the expense of style and panache, though – two things that you associate with Ozil; so little surprise then the German playmaker is not having the best of times. Germany have stumbled at the last two hurdles too many times in this era to go back to their more eye-catching football in the final two games of this tournament. Winning ugly – well not exactly ugly, because the football is still pretty good, just not as good – will be quite satisfactory, as long as the results stay positive.
Ozil has two options – keep plugging away and do what is expected of him, or produce that magical moment or two by finding that blinding pass which only he on the pitch could have possibly seen, and show his critics, he is capable of producing the goods from any position.
If Ozil fires, the results will definitely be positive, with the added gloss of that panache coming to the fore again – a win-win for the player and Germany.