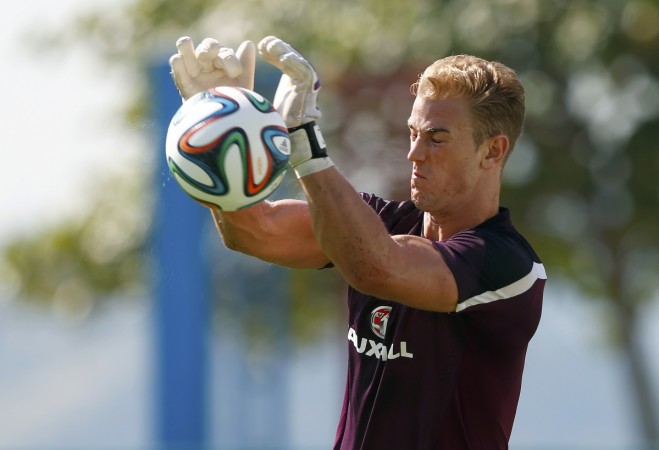 England goalkeeper Joe Hart says he and the rest of his teammates know that Uruguay striker Luis Suarez is going to be a big menace for their defence in the World Cup.
The two teams are set to face each other in a crucial Group D fixture on 19 June at Arena Corinthians, Sao Paulo.
Though Suarez was a major doubt for the tournament after sustaining a knee injury during training, the Liverpool star made a remarkably quick recovery following a keyhole surgery. And Hart, who has faced the talismanic forward in the Premier League several times, knows he will be a threat when England take on Uruguay.
"The fact is we know Suarez and we know that he can be trouble," the Sun quoted Hart as saying.
However, the Manchester City goalkeeper is confident Liverpool players in the England squad will help the team devise a plan to stop the Uruguayan goal machine, who bagged the Golden Boot in the Premier League last season, by netting 31 goals.
"There'll be some familiarity; the Liverpool players will know him a lot better. I'm sure they'll give us their input on the different ways of stopping him. So hopefully that's only going to help," the stopper stressed.
Hart claims England have done their homework on Italy and Uruguay but admits they have not researched much on Group D underdogs Costa Rica yet.
"It's fair to say we are more familiar with Italy. We know a bit about Uruguay because of the Suarez factor and Cavani. Costa Rica are a bit more unknown at the moment. But we'll do our research."
However, the England no.1 feels all three games are going to be difficult, considering all of them qualified for the World Cup, after coming through some tough qualifying campaigns.
"It's three really tough games - but it's a World Cup so you don't expect anything else. They're all dangerous, they all came through tough qualifying campaigns. Italy in Europe and the other two in South America. It's not easy to do that."
Despite many believing that England will be a big failure in the World Cup, Hart is confident they will do well in the tournament.
"We've had a really positive season with these players, the young guys coming through. I think we have to go out there with no fear - and make sure we leave the tournament with no regrets."
Hart is in Brazil as England's no.1 after playing second fiddle to Robert Green and David James in South Africa last time. Nevertheless, the City goalkeeper claims he did not mind being benched during the last World Cup.
"I enjoyed the last World Cup.I had not been involved in too many squads before that. I'd had a good season at Birmingham. I understood that Rob Green and David James had played in the majority of the qualifiers, so I was happy to back them up, provide support. This time, I hope I'll be playing."