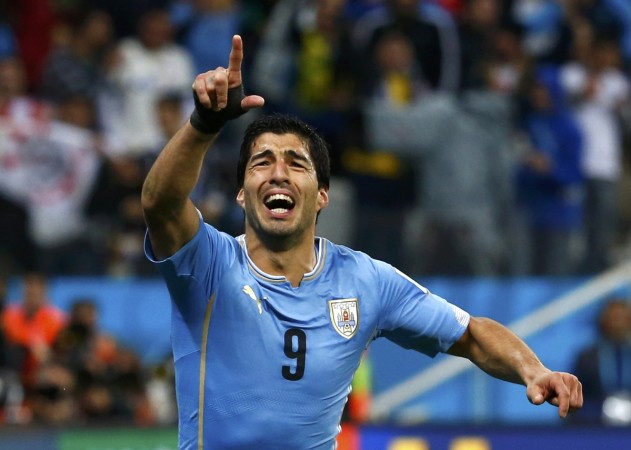 Uruguay striker Luis Suarez feels that he has silenced all his critics in England after scoring a brace during his side's 2-1 win over the Three Lions in the 2014 World Cup.
The Liverpool striker had been subject to heavy criticism in England after being involved in two disciplinary cases. While Suarez was charged and handed a eight-match ban for racially abusing Manchester United defender Patrice Evra in October 2011, he was again suspended for 10 games after being found guilty of biting Chelsea's Branislav Ivanovic during a Premier League game in April 2013.
Despite scoring 31 goals in 32 appearances for Liverpool in the Premier league last season, many people including England manager Roy Hodgson had said that the Uruguayan needed to prove himself in the 2014 World Cup in order for him to be included in the "world class" category alongside the likes of Cristiano Ronaldo and Lionel Messi.
And now the 27-year-old striker feels that he has finally answered all his critics with his performance against England.
"Before the game, too many people in England laughed about my attitude over the last few years. This is a very good time for me. I want to see what they think now."
Suarez claims that the match against England was like a dream to him.
"It has been like a dream. It is something I have dreamt about very often. It was one of the best games I've played. It's an amazing moment for me. Maybe a few days ago I thought this wouldn't be possible."
Suarez, who was a big doubt for the 2014 World Cup following a serious foot injury, revealed his thoughts when he was about to score the winner against the Three Lions.
"I had to keep calm, keep my cool and when I got the ball I just kicked it with my whole heart thinking of all those who have supported me. I would like to say thank you to my wife and my two children, my physiotherapist Walter Ferreira and my team-mates."
However, despite his happiness, Suarez expressed some empathy towards his Liverpool teammate Steven Gerrard.
"This is an unlucky moment for him. I don't like it when he hurts like this. I said, 'Keep going, forget this game, you're one of the best'. He's the best player I've played with."
Meanwhile Uruguay coach Oscar Tabarez hailed Suarez's performances after seeing his side defeat a European nation for the first time in 44 years.
"Luis Suarez's team-mates really love him. We all love him. He is a wonderful person and a very important player for our team. We've been able to win against a European team and both goals were scored by a player who was unable to play a couple of weeks ago. So of course we love him - and I think he loves us," said Tabarez.