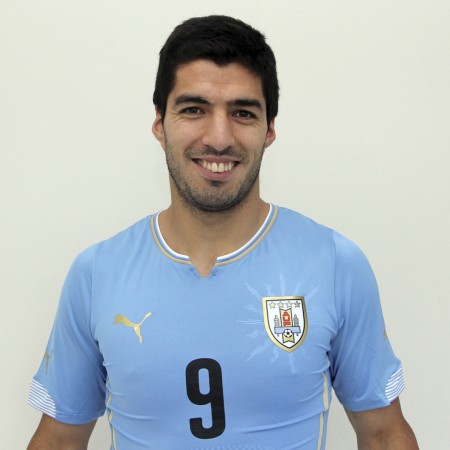 Uruguay striker Luis Suarez says that he is a hundred percent fit ahead of his side's vital World Cup Group D clash against England in Sao Paulo on Thursday.
The 27-year-old Uruguayan has been out of action since undergoing a keyhole surgery on his left knee, which he injured during a training session with Uruguay.
The Liverpool striker, who scooped up most of the awards in England after scoring 31 goals from 32 appearances in the Premier League, could only watch from the sidelines as he saw Uruguay succumb to a shock 1-3 defeat at the hands of Group D underdogs Costa Rica.
However, now Suarez, who has been tipped to take the 2014 World Cup by storm, is keen to help his side defeat England on Thursday.
"I have been training for a few days with the team and I am 100% ready, I now only need time on the pitch and to play the game. There is not one player that is going to be the saviour. We all have to work together to carry on," said Suarez.
With the Three Lions squad consisting of five Liverpool players, – Steven Gerrard, Jordan Henderson, Raheem Sterling, Glen Johnson and Daniel Sturridge – Suarez says that he knows what to expect.
The former Ajax striker also thanked Liverpool for trusting the Uruguayan national team to take care of his knee injury.
"There was never a moment when Liverpool said to me 'don't play'. The club have complete trust in Uruguay's team.I know all the English national-team players, both because they are team-mates or because they are rivals. They have defensive woes that we can take advantage of, but I won't tell the press how we have to play."
Meanwhile Suarez's Liverpool strike partner Daniel Sturridge says that he is ready to "do anything" to help England beat Uruguay on Thursday.
Having already lost their opening game against Italy, the Three Lions are desperate for a win against Uruguay. And Sturridge knows that it is a "do or die" situation for them against Uruguay.
"I'll be truthful, I am going to do anything in my power to win this next game. I am prepared to do anything and I am talking anything. I'm being serious. It is do or die," Sturridge told ESPN.
"It's a World Cup. I'm hungry, I'm confident and I'm so happy to be out here. This means everything to every single individual in this squad. Do I want to go home early? No. I want to win this World Cup like everyone back home wants us to win it and I'd be gutted to go out in the group," he added.