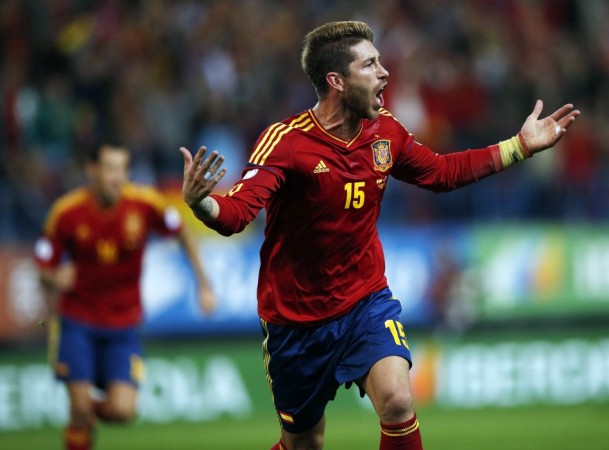 Sergio Ramos claims Spain will look to avenge last summer's Confederations Cup defeat to Brazil, if the two sides face each other in this World Cup.
The Real Madrid defender stated that the reigning champions have still not forgotten the humiliating 3-0 defeat they suffered at the hands of the Selecao in the 2013 Confederations Cup final last year.
And the 28-year-old feels Spain now have a very good chance to repay the favour in the hosts' backyard.
"We've already been in Brazil for the Confederations Cup - football always gives you a chance for revenge after you get this little thorn in your side. We're the champions, there's high expectation. It's always possible but winning a World Cup is very difficult," Ramos stressed.
However, first Spain have to make it to the knockout stages from a pretty tough group (B), consisting of Holland, Chile and Australia. And Ramos insists La Roja need to focus on overcoming the first hurdle.
"The most important thing is to make the most of the World Cup. First up there are three excellent teams in Holland, Chile and Australia before we can start thinking about the second round, quarter-finals, semi-finals or final," the defender pointed out.
"We have to take it one game at a time, which is what will guide us to success, that alongside humility and hard work. We're prepared to face the best in the world, which is what gives you prestige."
Ramos, who scored an injury time equaliser to force the game to extra time during Real's victory 4-1 over Atletico Madrid in the Champions League final, is often considered one of the best defenders in the world, having won silverware several times with his club and country.
And despite admitting to be flattered by the compliments, Ramos insists he is still hungry to achieve more success.
"It's flattering when people say I'm one of the best defenders in the world but that brings with it a great responsibility. I've won a lot of trophies but in football you can't live in the past, you have to keep proving yourself every day. This flattery invites me to work hard to better myself and improve every day."
Ramos, who has been appointed as an ambassador for UNICEF, said he is very excited about the prospect of representing his country in a World Cup in Brazil.
"It's always a dream to play in a World Cup and to do so in Brazil, who have a very prestigious team that has always made a difference and always been favourites, you dream about wearing your country's jersey and playing in a World Cup, and all the more if it's in Brazil."