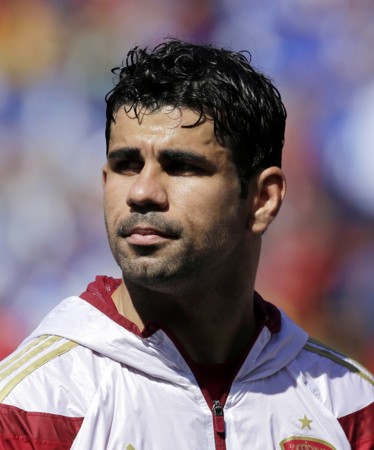 Spain striker Diego Costa insists he is fully fit ahead of his side's first World Cup fixture against Netherlands on 13 June.
The Atletico Madrid striker suffered a hamstring injury which had forced him off after only nine minutes during the Atletico's 4-1 loss against rivals Real Madrid in the final of the Champions League.
However, despite the 25-year-old needing some time to recover, Coach Vincent del Bosque included him in Spain's final 23-man World Cup squad, hoping he would return in time.
And now Del Bosque's gamble appears to have paid off as the Chelsea bound striker, who was in excellent form scoring 27 goals in 35 La Liga appearances for Atletico last season, claims he has regained full fitness ahead of Spain's World Cup opener.
"I'm feeling very good. At this moment, I think I'm feeling the best I ever have - perfect. I feel I'll have no problems at the World Cup," Goal quoted Costa as saying.
"I always have anxiety, even more so before playing against a team like Holland. But players try to just live in the moment and I hope to get going as soon as possible. As I said before, everyone is treating me in a special way and I'm enjoying a beautiful moment. I can only give my thanks."
The Brazil-born striker had sparked a lot of controversy last October after he opted to play for Spain instead of his native country. Brazil head coach Luiz Felipe Scolari, who was furious after hearing Costa's decision, accused the striker of "turning his back" on his country.
"A Brazilian player who refuses to wear the shirt of the Brazilian national team and compete in a World Cup in your country is automatically withdrawn. He is turning his back on a dream of millions, to represent our national team, the five-time champions in a World Cup in Brazil," Scolari had said earlier.
However, Costa insisted he has no regrets over his decision and he is happy to represent Spain in the 2014 World Cup.
"My parents are very happy to be close to me. They know why I chose Spain and they have always supported me," he added.
Spain, who have been drawn in Group B alongside Netherlands, Chile and Australia, start their 2014 World Cup campaign against the Dutch, the team they beat in the final of the 2010 World Cup.