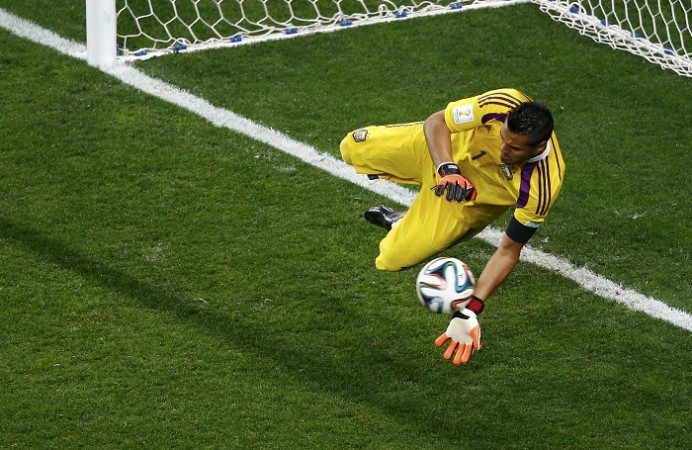 Argentina coach Alejandro Sabella, after his team's hard-fought victory over Netherlands, insisted that they are ready to play against Germany in the World Cup final at the Estadio do Maracana.
Germany humiliated Brazil 7-1 a day before in the first semifinal, and Sabella pointed out that his players have fewer days to recover from their semifinals clash, but stressed that they will give their best against the three-time champion.
"Some of our players are sore, beaten, tired - the results of a war, so to speak," said Sabella. "We have a final to play, with one day less to prepare and against a team like Germany, but with work, humility and seriousness, we'll do all we can to make it all the way to the top."
Both teams failed to break the deadlock in the regulation time and were scoreless even after the extra time. However, the South Americans prevailed over the Dutch in the penalty shootout when goalkeeper Romero blocked two shots.
The Argentine coach spoke highly of the German team that thrashed the hosts in the last match and added that it will be a very difficult match for Argentina as the Germans will play with a "South American touch."
"Germany throughout their entire history have always shown physical might, tactical, mental prowess, and have always had players with a certain South American touch," Sabella said.
"The match is extremely difficult and I repeat the fact they haven't played extra time and we've played two, and played one day after Germany," he added. "Germany is always a very difficult hurdle to overcome."
Argentina's goalkeeper Sergio Romero, who helped his side in prevailing over Netherlands on penalties at the semifinals clash at the Arena de Sao Paulo on Wednesday, insisted he is prepared to face the European giant on Sunday.
Romero spent his last season mainly on the bench for French Ligue 1 club AS Monaco and his place in the Argentine team was doubtful. However, the 27-year-old proved critical for the South Americans and helped them win every match in the tournament so far.
Romero, who has kept three clean sheets in the World Cup, saved two spot-kicks of Ron Vlaar and Wesley Sneijder, while Argentina converted all their shots. He is also the front-runner for the Golden Glove award.
"Penalties are all about luck, that is the reality," Romero said. "I had confidence and thanks to God, it turned out well. We go away happy and now we will prepare for the final from tomorrow. The moment should be enjoyed and we are going step by step."