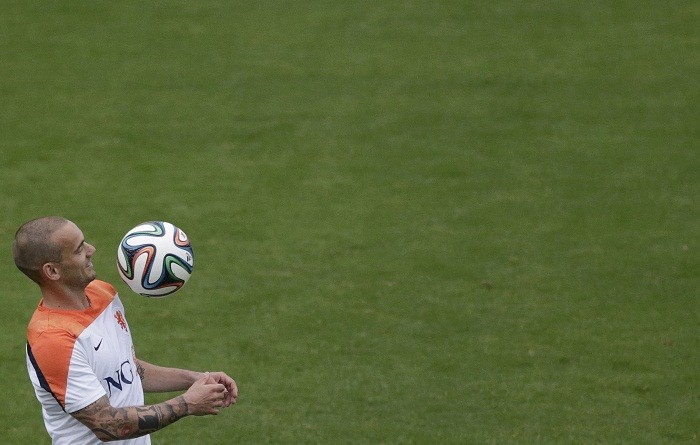 When that strike from Andres Iniesta went in to pretty much confirm Spain would win their first World Cup title, there was little doubt the best team had won the coveted crown. But then, in football, quite often the best team leave the field with their heads down and wondering just what went wrong.
While the 2010 World Cup final in South Africa saw the best side in the world being crowned as world champions, the result could have been a lot different had a chance here or there been taken by finalists the Netherlands.
Having done extremely well to get to the final, the Netherlands lost the plot a little with their physical play in the final, while also missing several presentable chances on the counter-attack.
For any player to lose a World Cup final is a hard pill to swallow and Holland midfielder Wesley Sneijder admitted it was his bitterest moment in football.
"The final against Spain is the biggest disappointment of my career," Sneijder told Der Telegraaf.
"I had to walk past the cup but couldn't hold it. We were so close and the ball went in just minutes before the end of the match."
One of the men who missed a wonderful chance which would have probably seen the Netherlands hold aloft that famous trophy was Arjen Robben, who failed to find the back of the net when one-on-one with the goalkeeper in the second half.
Robben, like Sneijder, has not quite gotten over that defeat or the miss, but understands that sport is filled with such near-misses and what-might-have-beens. "Disappointments are part of the career of a sportsman," Robben Spits.
"I will always carry that missed shot with me. We were so close to winning the tournament. I will always have that pain. But it happened and we cannot do anything about it anymore."
Sneijder and Robben are again expected to play starring roles for the Dutch at the World Cup in Brazil, and the former has done his foremost to get fighting fit, after his recent battles with fitness.
Sneijder took help from kickboxer Gokhan Saki to ensure he would be in brilliant shape ahead of the big World Cup. "Thanks to him, I got back to my optimal weight, like when I was 22," Sneijder added. "In terms of footwork and agility, I am back to my old level.
"It was explosive training. It has made me more explosive over the first few metres. I feel that I have benefited from it.
"However, I have not got fit just through the workouts. I also played a lot of matches after the winter break."
The Netherlands and Sneijder will have an opportunity to put those final ghosts to rest just that little bit when they take on Spain in their Group B opener on Friday.