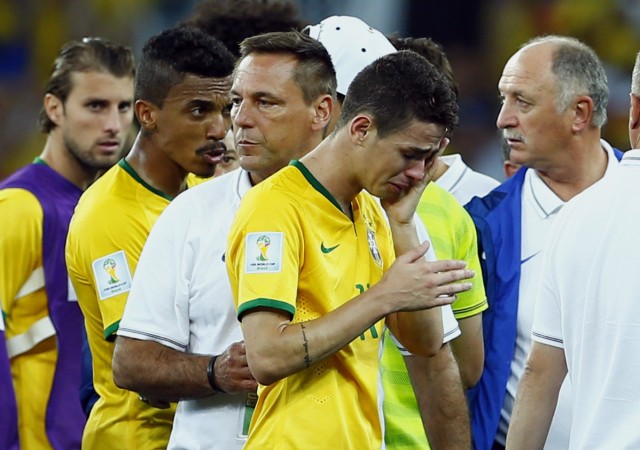 Germany head coach Joachim Low expressed sympathy towards Brazil, after seeing his side register a crushing 7-1 win over the hosts in the 2014 World Cup semifinal.
Braces from Toni Kroos and Andre Schurrle coupled with strikes from Thomas Muller, Miroslav Klose and Sami Khedira shattered Brazil's dreams of reaching the final of the 2014 World Cup; they were only able to get a last-minute consolation goal through Oscar.
"All 200 million people here want you to get to the final. That can cause your players to tighten up. I feel sorry for him (Scolari)," said Low.
Low, who was Jurgen Klinsmann's assistant coach in the 2006 World Cup, said he can relate to Brazil's defeat as Germany, who were hosts in 2006, they were knocked out by Italy in the semifinals after a 2-0 loss in extra time.
"We were shocked too and experienced the same thing in 2006. We had great hopes in 2006 too and you can feel the pressure that the hosts have in a match like this," Low pointed out. "We lost in the 119th minute back in 2006, so we know how (Brazil coach Luiz Felipe) Scolari feels, how the Brazilian team feel, and the people in Brazil feel right now."
Nevertheless, Low stated he is very happy with his side's performance, especially after they were criticised for their narrow 2-1 win over Algeria in the last 16 of the competition.
"Five goals in 18 minutes - it's clear that they were shocked and didn't know what to do. Let's put it into context: the hosts were unable to deal with the pressure. We had a clear, persistent game-plan and if we were courageous and believed in our own strengths, we would win this match," the Germany coach stressed.
"That the result would be so emphatic was not to be expected. Scoring three in four minutes the hosts were in shock, confused, and never returned to their original organisation. We were extremely cool and realised they were cracking up, and we took advantage of that."
However, Low feels that Germany should not get carried away by this result, and remain focused for the final against either the Netherlands or Argentina.
"Everyone did their job today with a lot of concentration. But this has to continue. We need to stay humble. We don't want to over-rate this. We have to stay concentrated until Sunday."