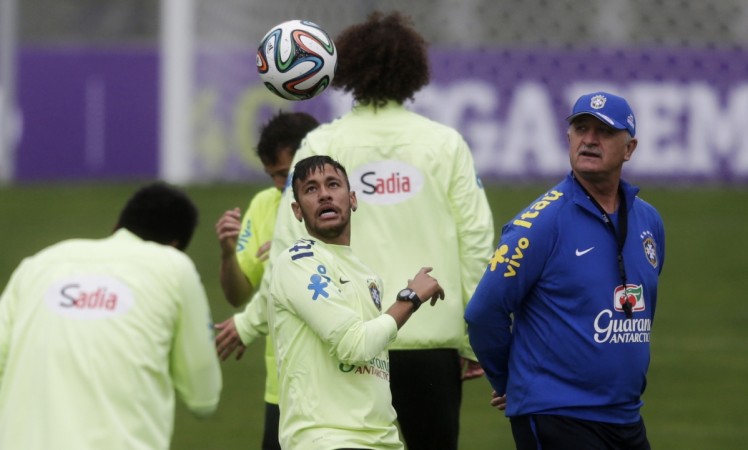 Brazil head coach Luiz Felipe Scolari has urged his side to improve their sharpness and energy levels before the start of the FIFA World Cup on 12 June.
The hosts, who are currently preparing for their pre-World Cup friendly against Panama later on Tuesday, were reportedly blasted by Scolari after they appeared to be complacent and sloppy during training sessions.
And now with only nine days remaining until the start of the World Cup, the 65-year-old Brazilian, who guided the Selecao to glory in the 2013 Confederations Cup, has asked his side to pull up their socks.
"The marking was sloppy, we left spaces in the middle of the park and took up questionable positions. We cannot let our attitude slip a week before the Cup. We cannot lose the identity which we forged at the Confederations Cup," said Scolari.
Still Scolari, who was the coach of Brazil when they won the 2002 World Cup held in South Korea and Japan, claims his players know exactly what he expects from them.
"I urged them what I always do - to be serious and play each match as if it were the last," he added.
Scolari, who will be able to make up to six substitutions in the friendly game against Panama, will probably experiment with his side, although against Croatia, he is expected to field more-or-less the same side that defeated Spain in the Confederations Cup final.
However, the former Chelsea boss feels his side should not be complacent against Panama.
"They [Panama] are a good side - we have been following their work. We have to take the game seriously and see how we are coming along."
Meanwhile, Scolari, despite feeling that he could have got a little more time to prepare for the World Cup, says he is confident his team will do well in the tournament.
"It would be good to have another week," said Scolari. "But at the same time, deep inside me, knowing that my team will be prepared, I wanted it to start now.
"It's time to get this thing going. There's no point to keep waiting. Things will either be OK or go wrong, after it starts it's do or die."