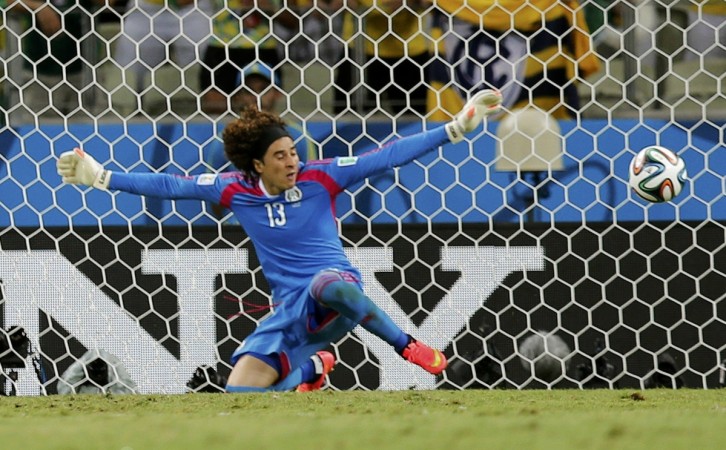 Brazil head coach Luiz Felipe Scolari lauded Mexico goalkeeper Guillermo Ochoa's performance after he produced a series of stunning saves to deny the hosts a victory in their second World Cup fixture.
Although many Brazil players including Neymar, David Luiz and Thiago Silva had very good chances to score Ochoa denied them .
The draw means that Brazil will probably have to win their final game against Cameroon to secure a place in the last sixteen of the tournament.
Scolari feels that Ochoa was deserving of the man of the match award for his efforts during the game.
"I did not like their goalkeeper. He was really spectacular, he did a great job, he was calm and confident on the pitch - he was the man of the match," said Scolari, who coached Brazil to a World Cup win in 2002 , at a news conference.
"We had chances but they had a very good goalkeeper who did a marvellous job. Mexico also shot very well from outside the penalty box, so they had a very good day, so that is why we could not win."
Despite admitting that the goalless draw was not a good result, he acknowledged the efforts of Mexico during the game.
"A 0-0 is never a good result but it does reflect how close this match was. It was not a good outcome because a win would have given us the qualification but we must respect our adversary, who played really well. Both teams tried to score quality goals. There was a lot of physical effort that was evenly matched."
The former Portugal boss says that he decided to go with Ramires after Hulk, who sustained a minor injury during training, decided to remain on the bench.
"Hulk could have played today but he decided to stay on the bench, so we started with Ramires. But if he believes he can play in the next match we will put him back on the pitch," Scolari said.
Finally, the 65-year-old Brazilian insists that his side need to score goals and register a win in their final group fixture against Cameroon.
"[We need to score] goals against Cameroon. We don't know what the final score of Croatia-Cameroon [on Wednesday] will be so we don't know whether we will be going on to the next phase or not. Goals - that is what we lacked today."