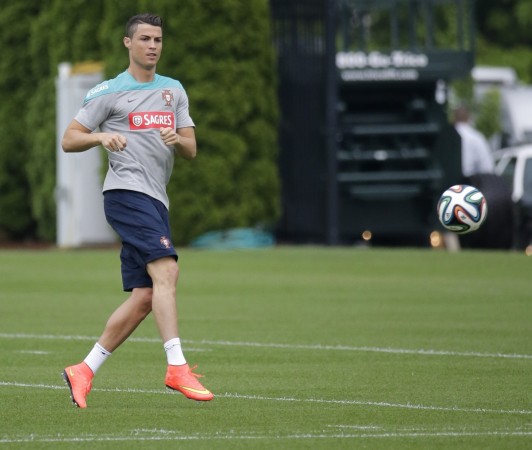 England striker Wayne Rooney has branded Portugal forward Cristiano Ronaldo as a glory hunter, saying the Real Madrid man is motivated by personal achievements than the success of his team.
Despite feeling that there is nothing wrong with his former Manchester United teammate's approach, Rooney claims he is completely the opposite.
"I'm not a player who needs [to win] individual awards like Cristiano Ronaldo. He has to have that and you admire him for that," Rooney told ESPN. "I'm more about winning things as a team. You can see how he is. He wants his moments. It's more important for me to win trophies as a team."
The 28-year-old, who endured a very difficult campaign with United last season, said he would trade a personal accolades to win trophies with the Red Devils any day .
"I've won PFA Player of the Year, which is nowhere near as good as winning a trophy with Manchester United. I've not won anything this year, so hopefully I can do that now."
Despite receiving a lot of criticism from his former teammate Paul Scholes, who stated Rooney has passed his peak and should be dropped from the England squad, the former Everton star feels he can finally shine at the 2014 World Cup.
"I feel great, better than I have done for years," Rooney pointed out. "I'm ready for this tournament. I know if I can play my game, I'll do well. I've always been hard on myself. I've maybe put myself under too much pressure before. Maybe the media have put me under a lot of pressure and I've tried to respond to that.
"I've learned to enjoy this one because I haven't enjoyed the last ones, they've not gone well. All of a sudden you're looking back and they've gone and I didn't enjoy it. I'm going to make sure I take positive memories from this one. I'll have no excuses. I've prepared well for it.''
England have been placed in a tough group, alongside Italy, Uruguay and Costa Rica and many believe the Three Lions will be a big failure in the 2014 World Cup.
Their first test on Sunday is against the Azzurri, who knocked them out of the 2012 European Championship. However, Rooney feels England will be able to put Italy under pressure, if they manage to increase the tempo of their game.
"The Italian defenders put themselves in good positions but, if I'm being honest, when you play a high tempo they've struggled," Rooney said. "The Italian league is nowhere near the tempo of the Premier League. Even when we played AC Milan, with [Alessandro] Nesta and [Paolo] Maldini as centre-halves, they really struggled when we've played a high tempo. If we can do that I am sure we will give them problems."