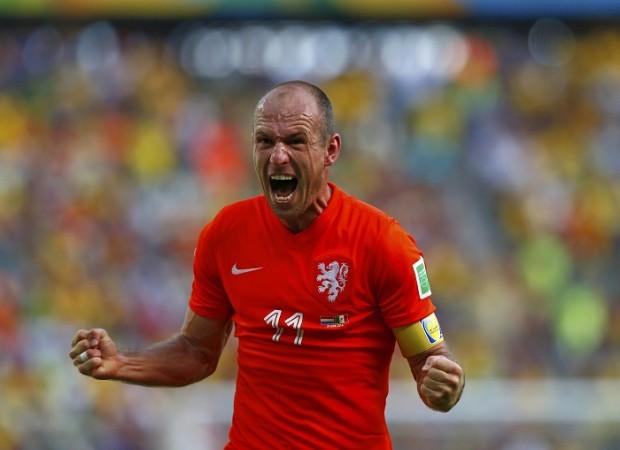 Arjen Robben has apologised for diving in the pre-quarterfinals clash against Mexico but insisted that the referee was right in awarding injury time penalty, while Mexico coach Miguel Herrera slammed the Dutch striker and labelled him a cheat.
The Dutch were trailing in the match with just two minutes remaining but Wesley Sneijder scored the equaliser and Robben won a penalty in the added time, which was put away by Klaas Jan Huntelaar to seal a quarterfinals berth for Oranje.
"I really have to say and at the same time apologise in the first half I took a dive and I really shouldn't do that," Robben said. "That was a stupid, stupid thing to do but sometimes you're expecting to be struck and then they pull their leg away at the last minute."
Mexican coach Herrera was left fuming after referee Proenca awarded the decisive penalty to Holland, when their skipper Rafael Marquez fouled on the Bayern Munich player in the 94th minute. The 46-year-old insisted that his side has become a victim on poor refereeing in the tournament.
Herrera said that Robben should have been cautioned for diving thrice in the match and he should not have been on the pitch to win the spot-kick.
"Out of four matches we had three where the refereeing was disastrous and this was the worst," Herrera said. "Robben did three dives for penalties that didn't exist. He had to be cautioned. If you do that to the guy who tries to cheat, then he can't cheat again."
"Robben should have got a second card. If you don't do anything as a referee, the player carries on. He knows he won't be expelled from the pitch so he carries on."
"But then when they send a referee from the same confederation where they have a team, this is what happens," he added. "The referee gave a penalty that was invented by him. The least we can hope is that this gentleman goes home just like us."
Giovani dos Santos scored early in the second half to put Mexico in the lead, but El Tri failed to see through the final few minutes of the match.
"Maybe we were missing what teams like Argentina, Uruguay and those with experience of winning do," Mexican coach said. "We had four minutes to go plus stoppage time and we should have put the ball in the corner, do what other teams do and perhaps we would have been faced with a different result."
Meanwhile, Netherlands coach Louis van Gaal praised his team for fighting till the end, and showing a lot of confidence.
"I have to give credit to my players: I think they were in much better shape and much more focused than our opponents," Van Gaal said. "They never stopped believing, right to the end. They showed belief and a lot of confidence."