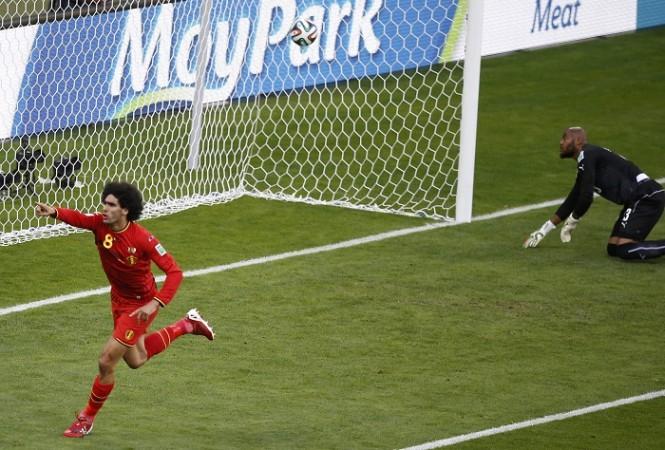 Belgium, in their first major tournament in 12 years, flirted with disaster, playing with it, enticing it, making it feel like it had won them over, before striking back in lethal fashion to turn disaster into triumph and begin their FIFA World Cup 2014 sojourn in smashing style.
Algeria had threatened to spoil the dark horse party, scoring the first goal from the penalty spot via Sofiane Feghouli. But then Algeria would have surely realised scoring the first goal at this World Cup does not guarantee you success at all, and scoring the first goal from the penalty spot is a sure fire way to guarantee a defeat, as Spain and Uruguay found out much to their detriment.
That first penalty curse struck again, as Belgium, frustrated and curtailed for long periods of this Group H clash at the Estadio Castelao in Fotaleza, stormed their way back in the final 20 minutes, with Marouane Fellaini scoring a trademark header to make it 1-1, before another substitute Dries Mertens smashed Belgium into the lead, a lead which they would not relinquish in a 2-1 victory.
Algeria played their strategy to a T, of sticking to their formation, keeping plenty of men behind the ball and defending as deep as possible, i.e. parking the bus. The result was Belgium just plain and simple unable to penetrate through the score of players, who put that "thou shall not pass" attitude to perfect use, for 69 minutes, before it all unravelled for Algeria.
The North African side, with a raucous crowd behind them, actually started the better of the two teams, taking the game to Belgium in the first five minutes, before the latter finally settled and bossed possession. Possession, though, means very little without penetration, penetration which gives way to chances, of which there were few.
Of the three times that Belgium actually tested Rais M'Bolhi in the first half, two of them were long-range efforts from Axel Witsel, with the Algeria goalkeeper up to the task on both occasions.
Belgium, with their love for possession, and a relatively high backline along with centre-backs playing as full-backs were always going to be susceptible to the counter-attack and that proved to be the case as Sofiane Feghouli got ahead of left-back Jan Vertonghen, who, to prevent his opponent from latching onto a cross from the left, tugged at his arm, with Feghouli not needing a second invitation to go down.
A clear penalty it was and Feghouli himself stepped up and parked the ball into the net in the 25th minute after sending Thibaut Courtois the wrong way.
Algeria, after scoring their first World Cup goal in 28 years, went back to the same tactics, and as did Belgium, who did not really have a plan B, as width, on the right at least, was difficult to come by with Nacer Chadli, an interesting inclusion from the start, coming infield time and again.
Of the other two forwards, Hazard struggled to get into the game, even though he did create Belgium's best chance, slipping in Chadli, whose tame shot was saved comfortably, while Romelu Lukaku cut a frustrated figure, and then some, not getting enough of the ball, while being crowded out immediately the few times he did.
Marc Wilmots needed to make a few changes, and he did, bringing on Mertens for the ineffective Chadli to start the second half, while 19-year-old Divock Origi also came on for Lukaku a little later.
Belgium cranked their pressure up a little bit and chances came, with Witsel heading high from close-range, while Origi almost announced himself on the World Cup stage in style, breaking clear, but firing his shot straight at the keeper.
It was still not working and Belgium needed a Plan B desperately. So what does Wilmots do? He sends in Fellaini, who makes a menace of himself in the box from minute one, before towering high to plant a wonderful header off a cross from Kevin De Bruyne to pull Belgium level on 70 minutes.
After one substitute had done his job, it was another's time to make his impact on the game, with Mertens powering home the winner in some style ten minutes after the equaliser. De Bruyne dispossessed Feghouli inside Belgium's own half, and in the blink of an eye, the Europeans were countering, with Algeria facing their worst fears -- Hazard running at the defence in full tilt. The Chelsea man, with two players next to him, picked out the right pass, slipping in Mertens, who took a touch to settle the ball before rifling it past M'Bolhi.
Belgium, with their tails pointing north, nearly made it an emphatic 3-1, but M'Bolhi tipped Fellaini's powerful header over the bar, however, by then, Algeria's goalscoring engine was running on empty.