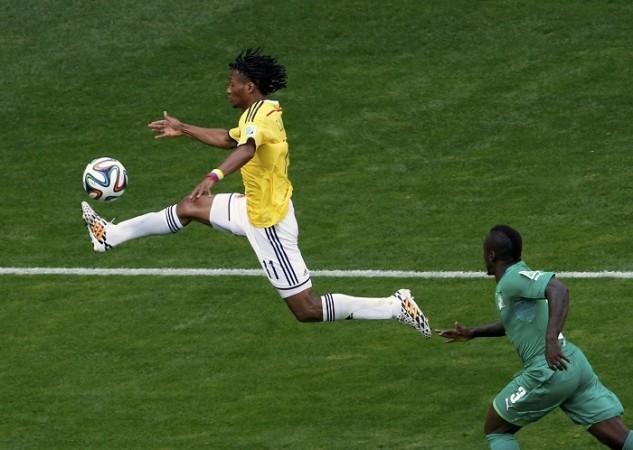 In a game that exploded into life after the hour mark, a quickfire two-goal burst from Colombia was enough, just, to see them past the challenge of Ivory Coast in a slow burner of a Group C match of the FIFA World Cup 2014.
The match in Brasilia, between two sides that had picked up maximum points in their first respective group encounters, failed to pick up any intensity for 63 minutes, before the goalsoring mojo suddenly sprouted out, with James Rodriguez and Juan Quintero giving Colombia a 2-0 lead. Gervinho made it 2-1 with a wonderful solo goal for the Ivory Coast, but Colombia clung on in the final 17 minutes to virtually seal their place in the last 16.
It wasn't a great start to the game, with neither side really hitting their attacking stride, leading to a bit if a stop-start first 10-15 minutes.
Slowly, as the two teams got more used to the pitch and conditions, the game did brighten up, put well into context of course. While the first half did not see any goals, or indeed too much goalmouth action, it certainly wasn't for the lack of trying from either side, with both Colombia and Ivory Coast moving forward at every opportunity with only that final ball letting them down.
There could have been a goal in the first half, though, and it actually should have been 1-0 to Colombia. Juan Cuadrado was his typical busy self, causing quite a bit of worry to the Ivory Coast left-back Arthur Boka. Cuadrado is not just about the tricks, though, there is quite a bit of quality in his delivery, while the winger also carries plenty of vision.
It was Cuadrado who opened up the move for Colombia's best chance in the first half, pinging a ball to Rodriguez on the left. The young playmaker took a couple of touches before managing to pick a perfect cross to the waiting Teofilo Gutierrez, who with time enough to make and have a cup of tea, shanked his shot completely with the goal begging to be found for the first time in the game.
The Ivory Coast, meanwhile, were restricted to taking long-range efforts, with Yaya Toure, playing in a more advanced role than he normally does for his club, unable to get into the game as much as he would have liked. Gervinho, who can be hit and miss at times, but can also be quite a hit when on form, was also very much in the periphery, while striker Wilfried Bony, preferred to Didier Drogba again, was starved for service.
The game needed a bit of freshening up in the second half, and for the first 15 minutes or so, there weren't too many signs it happening, before the opening Colombia goal in the 64th minute brought the game to life. It was a simple goal really, a nicely swung in corner from Cuadrado, and a powerful header from Rodriguez, of all people, to divert the ball into the back of the net for his second goal at this World Cup.
As Ivory Coast stormed forward in, Colombia were always going to be a threat on the counter, especially with the pace of Cuadrado and Rodriguez. However, it was a big mistake from Serey Die which gifted Colombia their second goal.
Serey Die gave the ball away in his own half, after an initial poor corner from Ivory Coast, allowing Gutierrez to slip in substitute Juan Quintero, who calmly slotted the ball past Barry Copa in the 70th minute.
With Drogba and Salomon Kalou, a surprise omission from the starting lineup, as the ineffective Max Gradel was preferred, coming on Ivory Coast refused to give up and they made it 2-1 three minutes after the second Colombia goal, courtesy some magic from Gervinho.
The Ivory Coast winger showed yet again just why he is so highly rated in his country, dribbling past three Colombia defenders before firing in a near-post shot which went in off the arm of Colombia goalkeeper David Ospina.
There were quite a few half-chances created by the African side as they desperately looked for the equaliser, but it was to be Colombia's day.