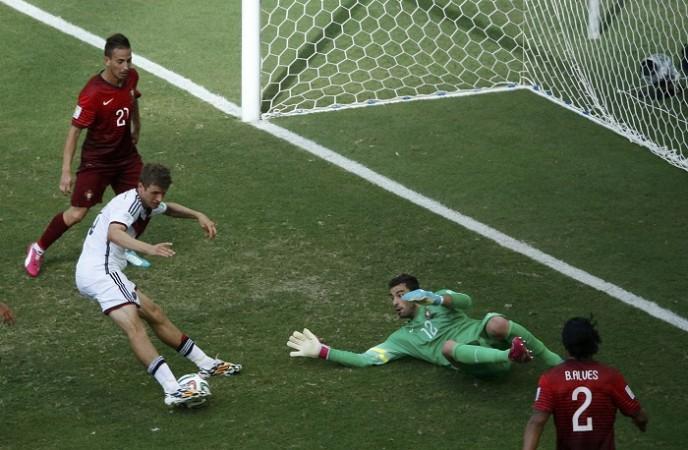 There was no magical moment from Cristiano Ronaldo, no the ball dipping and swerving into the back of the net, but there was a moment of madness from Pepe, a head-butt which as clear as day ended Portugal's chances of pulling off a victory over Germany, who, courtesy a sparkling hat-trick from cannot-stop-scoring-at-the-World-Cup Thomas Muller, marched to the most comfortable of 4-0 victories in Group G at the FIFA World Cup 2014.
The ground, the Arena Fonte Nova in Salvador, which witnessed Netherlands' unbelievable thumping of Spain on Friday, were treated to another goal-fest with Germany making merry over 10-man Portugal, who had Pepe sent off in the first half for a ridiculously stupid head-butt on hat-trick hero Muller.
Before the red card, Muller opened the scoring for Germany from the penalty spot, with Mats Hummels doubling the lead with a bullet header. It all went pear-shaped for Portugal from there with Pepe sent off, before Muller grabbed two more to give Germany the best possible start to their FIFA World Cup 2014 campaign.
The game started off nicely, with Germany looking to keep possession as Portugal went to their two wide players Ronaldo and Nani to give them that impetus with their pace and trickery. There were a couple of really good chances early on, both via mistakes from the opposition, with the first falling to Portugal, who failed to take advantage of a giveaway from Philipp Lahm, with Ronaldo's strike from an acute angle well saved by Manuel Neuer.
Sami Khedira, enjoying himself as Philipp Lahm's presence allowed him to make those late runs into the box at will, then had a chance at the other end, with Portugal goalkeeper Rui Patricio, looking to clear his lines, giving the ball straight to the midfielder, whose first-time shot from 35 yards with an empty net gaping flew just wide.
The goal came soon after, with the penalty won after a flowing move from Germany. Mesut Ozil was at the heart of this blink-and-you'll-miss-it passage of play, with a wonderful backheel from the playmaker eventually allowing the ball to find Mario Gotze inside the box. The Bayern midfielder, while looking to create some space for a shot, was tugged down by Joao Pereira, with Serbian referee Milorad Mazic having no hesitation in pointing to the spot.
Muller, the 2010 World Cup Golden Boot winner, stepped up and slammed home the penalty to give Germany an early lead. There were a couple of warning shots from Portugal in reply, with Nani coming closest with a nice effort from 20 yards which just whistled over the crossbar, but Germany always looked in control.
On 31 minutes, Germany, Portugal's nemesis in several recent major international tournaments, went 2-0 ahead with Mats Hummels thumping a header past Patricio off a corner from Toni Kroos.
If being down 2-0 to one of the world's best teams wasn't bad enough, it only got worse for Portugal as Pepe had one of those what-on-earth-were-you-thinking moments which we have come to associate with him so often. Muller went down, a little exaggeratedly, under a flailing arm from Pepe, who did not take too kindly to the reaction, making his feelings known by ridiculously head-butting the German forward, and that too right in front of the referee.
A red card was the obvious result, and Portugal's nightmare first half was compounded when Muller banged in his second of the day from 12 yards in stoppage time off another cross from Kroos.
The second 45 was low-key, with Portugal looking to limit their damage, while Germany took their foot off the pedal, conserving energy for sterner tests in the future.
Ozil could have made it 4-0 early in the second half, but failed to beat Patricio while one-on-one with the goalkeeper, with Muller firing the rebound high, while Mario Gotze also missed a similar opportunity a little later on.
Portugal, to their credit, did not give up, looking to at least get one goal for themselves with occasional forays on the counter, but the team in port wine red, like Ronaldo, not looking too worse for wear with his knee and thigh injuries, but looking absolutely shattered after that never-want-it-to-happen against first half, knew the game was up.
While there was not too much exciting action in the second half, there were a couple of worrying injuries, with both Portugal left-back Fabio Coentrao and Hummels joining Hugo Almeida, who had to be taken off in the first half for Eder, limping off the field with injuries.
The game seemed to be petering out, despite Germany coach Joachim Low making a couple of changes to freshen things up, but Muller would have his hat-trick after all, tapping-in from three yards out after Patricio spilled a low cross from substitute Andre Schurrle.
The most comfortable of wins for Germany, and the most forgettable of afternoons for Portugal, who will now have to make do without the services of Pepe for the next match, at least, as they look to bounce back from the mauling.