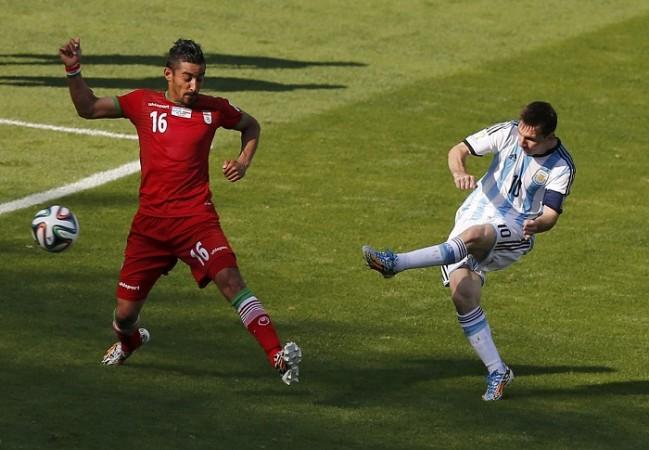 Iran were a couple of minutes away from a famous draw against Argentina, a draw they thoroughly deserved, thanks to some resolute, well drilled and thou-shall-not-pass defending. However, when you have a man who goes by the name of Lionel Messi, no goal is safe, no matter how well you might defend.
With the match heading for a frustrating, from Argentina's point of view, goalless draw, in stepped Messi, with a touch to take the ball out of his feet, get past his defender and create some space, before curling in the most wonderfully pure strikes past the excellent Alireza Haghighi to send through a feeling of intense relief amongst the entire Argentina team, and break a few Iran hearts.
It was not pretty, it was not exciting, it was not encouraging; until, of course, that great man, who had broken an eight-year World Cup goal drought with a brilliant strike in the first match, changed everything with a swing of his priceless left boot.
Argentina have now as good as qualified for the last 16 from Group F courtesy their second straight win, while Iran, who deserved at least a point after giving everything on Saturday, are left with just one point in two matches, when for 91 minutes in Belo Horizonte it looked like being at least two.
There was only one pattern of play for pretty much the entire 90 minutes – Argentina having the ball at their feet, looking to break down 10 men in red shirts, who protected their fortress with relative calm and tremendous skill.
Argentina would have known what to expect before going into the game, and coach Alejandro Sabella, no doubt, would have strategically planned out on how to break down the Iran walls; but planning something and then actually doing it are two completely different things, and from the first minute onwards, it was clear Argentina were in for a tough contest.
Iran's strategy was simple, have ten men on the ball whenever Argentina had possession, which was 71 percent of the time, and break down the opposition's momentum as well with niggly, well thought out fouls – Iran had already given away two fouls within the first minute.
Argentina, playing a 4-3-3 like Sabella had promised and Messi had wanted, did have a few decent opportunities, though, which on another day would have gone in and allowed them to hit their stride in the first half, with Gonzalo Higuain presented with the first real chance.
Fernando Gago, who like Higuain found himself in the starting lineup, sprayed a nice pass to his striker, but Higuain could not find a way past Iran goalkeeper Haghighi, who came out and snuffed out the chance nicely.
Sergio Aguero forced another top save from Haghighi a little later, with the Argentine's curler from 16 yards, off a nice layoff from Higuain, tipped over by the goalkeeper.
Argentina looked at their most dangerous from setpieces, as their defenders – Marcos Rojo, Ezequiel Garay and Francisco Fernandez – time and again found themselves with a free header off a corner, but the ball just refused to stay under the bar.
Iran's best moments also came from freekicks, as Amirhossein Sadeghi came quite close from a setpiece, but those, or any other kind of opportunities, were few and far between for the Asian side in the first half.
Messi, like he was in the first half against Bosnia-Herzegovina, was very much in the periphery, with the little magician only making an impact from a 22-yard freekick, which whistled just high. Argentina were going to need Messi to be more potent and available for the ball in the second half, if they were going to break down this mean Iran defence.
Argentina's talisman and skipper did have a trademark moment early in the second 45, making that dazzling run from deep before curling the ball, much like he did against Bosnia-Herzegovina, into the bottom corner – the only difference this time was the ball, instead of nestling into the net, rolled a few inches wide of the post.
It was not normal service being resumed in the second half, as Iran, seeing Argentina's growing frustration, sensed the upset of all upsets, stepping up an attacking gear, which didn't seem like it existed for the entire first half.
Iran enjoyed a 5-10 minute spell of play around the hour mark, where they actually had the Argentina defence worried, with Ashkan Dejagah, excellent on the day and who had a penalty appeal turned down a little earlier, forcing a fabulous save from Sergio Romero off a cross from Pejman Montezeri, who had also set up another headed chance for Reza Ghoochannejad early in the second half.
Argentina got back into the we-try-and-break-down-this-Iran-defence pattern of play soon enough, but that quality, or moment of magic, just would not come with Messi, Aguero, Higuain and Di Maria all unable to find the key to unlock that door towards goal.
Ezequiel Lavezzi and Rodrigo Palacio were thrown in by Sabella for the ineffective Aguero and Higuain but Iran's no-way-through-here attitude did not relent.
Ghoochannejad nearly gave Iran a late winner, a winner which would have been talked about for years had it gone in, but the Iran striker failed to stroke the ball past Romero after going clear of the Argentine defence.
Iran would be left wondering about that chance and a couple of the earlier ones, though, as Messi stepped up like only he can to turn Argentine despair into sheer delight and land a cruel knockout blow to the gallant Iranians.