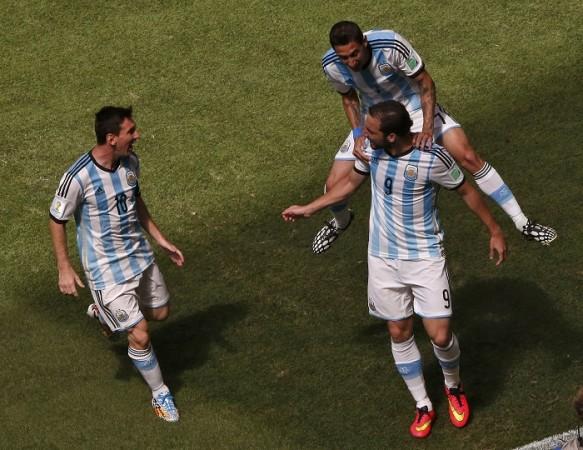 Gonzalo Higuain, who was giving the Invisible Woman of the Fantastic Four a run for her money, such has been his powers of invisibility heading into this quarterfinal, finally decided to show up at this 2014 FIFA World Cup in Brazil, scoring the all-important winner to guide Argentina to a turgid, nor-one-for-the-ages quarterfinal victory over Belgium.
Argentina needed someone not named Lionel Messi to step up in this quarterfinal in Brasilia against a hard-to-break-down Belgium, and Higuain did just that putting in a commendable overall performance sweetened by the sweetest of strikes early in the game, a strike which proved to be more than enough to see off the Belgians, who, yet again, failed to find their attacking mojo, with the superior of their opponents rendering last-minute comeback impossible.
The Argentines will revel in this 1-0 victory, even if they could have been so much better, because Messi was hardly needed in this match; that magical left foot of his, which nearly found a way past Thibaut Courtois right towards the end, but not quite, staying fresh for a semifinal outing, their first in 24 years, against one of the Netherlands or Costa Rica.
The script of this third quarterfinal bore a similar pattern to the other two, with one team, the favourites going into the game, scoring an early goal, leaving the other side to push forward, not with too much effect in the first half.
Both Colombia and France suffered early goals and struggled to get going immediately, with France not even able find their groove over the 90-minute period.
In fact this Argentina vs Belgium match was quite similar to the first quarterfinal, with the former never really looking too worried as the Belgians lacked the urgency to cause their opponents too many problems.
Argentina took a few minutes to get going, with Messi nearly opening the Belgium defence with a beautiful pass to Ezequiel Lavezzi on the left, but the winger could not find the right cross to pick out Higuain.
Belgium had started decently in the first couple of minutes, but they were caught cold on eight minutes courtesy a pure as they come strike from Higuain, his first and much-awaited one at this World Cup. Vincent Kompany gave the ball away in midfield after his foray from deep, with Messi then finding Di Maria, whose pass to the wide man deflected off Jan Vertonghen and fell perfectly for Higuain to strike first-time and into the corner, with Courtois not even having time to move.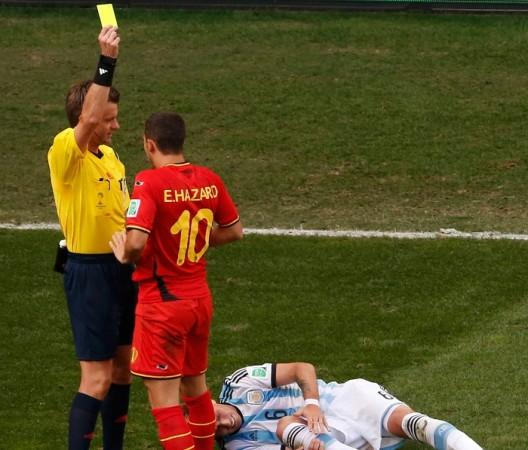 With the onus on Belgium to find the equaliser, the Europeans, rather than really pouring forward with pace, looked a little laboured, not able to use their width via Kevin Mirallas, in for Dries Mertens, and Eden Hazard, who kept drifting in and with it crowding the middle.
Much was expected from Hazard in this game with coach Marc Wilmots imploring his as-talented-as-they-come playmaker to finally showcase his skills on the greatest stage of them all, but the Chelsea man was yet again disappointing, bordering on awful.
Any slightest of sparks for Belgium, whose attacks were just way too slow to cause Argentina too many problems, came via Kevin De Bruyne and Mirallas. De Bruyne forced Sergio Romero to make his only save of the first half with a speculative effort from outside the penalty area, while Mirallas just failed to guide his ball into the bottom corner off a nice cross from Vertonghen.
Argentina, like Germany on Friday, always looked in control, with Martin Demichelis, making his first start, and Ezequiel Garay marshalling the defence really well, even if the cutting edge going forward was missing a little with Messi and co. failing to bother Courtois too much after that early strike. The only negative for Argentina in the first half was an injury to Di Maria, who seemed to injure his thigh while taking a shot from 19 yards, with the midfielder forced to come off for Enzo Perez just past the half hour mark.
Higuain, with that first goal notched, was a completely different player now, looking more and more like the goalscorer that Argentina desperately needed. The striker nearly scored one of the goals of the tournament inside ten minutes of the second half, running from well inside his own half, leaving Kompany, of all people, for dead, with a nice nutmeg, before beating goalkeeper Courtois, but also failing to keep the ball down enough to find the roof of the net as it pinged off the crossbar and out.
Something needed to change for Belgium, and Romelu Lukaku, who inspired his team to victory over USA in the last round, was brought in on the hour for Divock Origi, who unlike in the last game, just could not make an impact. Mertens also came in for Mirallas, with Wilmots keeping Hazard on the field hoping for a bit of magic from the fleet-footed winger.
Belgium almost scored right after those two changes, with Maroune Fellaini heading just high off a nice left-wing cross from Vertonghen. The urgency increased as the clock wound down with Fellaini joining Lukaku up front as Belgium went route one.
Hazard, though, failed to provide the spark, the through ball or the cross to a plethora of Belgium players in the box never really looking being conjured up, and his time was up with 15 minutes to go, as Nacer Chadli came in. The Tottenham midfielder could do little either, however, as Belgium exited the World Cup with barely a whimper with Argentina, far from convincing again, yet again finding a way to win, despite not being at their sparkling best.